Carbide 12 in. Saw Blade has 90-tooth, cool-running design.
Press Release Summary: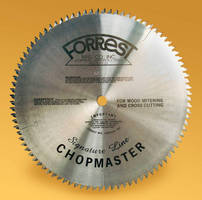 Featuring 90 teeth, 12 in. diameter, and 5/8 in. center hole, Signature Line Chop Master blade (Catalog No. CM12905115A) may be used on any 12 in. sliding compound miter saw, chop saw, or radial arm saw. Cool running design enables quiet, smooth cuts at any angle without bottom splintering, side scoring, or vibration. Made with corrosion-resistant C-4 micro-grain carbide, blade features angled points that facilitate penetration into wood and composites.
---
Original Press Release:

Forrest Manufacturing Adds a 90-Tooth, 12" Blade with 5/8"Center Hole to Its Signature Line Chop Master Series



This newest blade fits any 12" chop saw, sliding compound miter saw, or radial arm saw. It cuts quietly while providing exceptional splinter control for fine molding applications.

CLIFTON, New Jersey-Jay Forrest, vice-president of Forrest Manufacturing, announced today that the company has added a new blade to its 90-tooth Signature Line Chop Master series of quality saw blades. This latest addition has a 12" diameter with a 5/8" center hole for use on any 12" sliding compound miter saw, chop saw, or radial arm saw.

In making the announcement, Mr. Forrest said, "Our first Signature Line Chop Masters were introduced last summer. They are available with a 10" diameter and 5/8" bore and with a 12" diameter and 1" bore. The proprietary design of these blades assures exceptional performance and quiet cuts on delicate pre-finished crown molding, picture frame molding, and composite molding. So it's no wonder that this series has become so popular with serious woodworkers. Our customers will find that this latest Signature Line Chop Master-with its 12" diameter and 5/8" center hole-is particularly suited for super-fine miter cuts in applications where splinter control is especially crucial."

Additional Teeth and Newly Angled Carbide Points
All Forrest's Signature Line Chop Master blades have 90 teeth. That's a 13% increase over the company's original Chop Masters. In addition, the complementary face
angles of the teeth have been redesigned to create the best possible precision trim blades for chop saws, sliding compound miters, and radial arm saws. These newly angled carbide points create less cutting pressure and make it easier for the saw blade to penetrate wood and composites. As a result, they run cool and cut smoothly at any angle without bottom splintering, side scoring, or vibration. These blades also feature a smaller gullet (the valley between each tooth) to provide a quieter cut.

Customer Input Produces Results
In discussing the development of the latest Signature Line Chop Master, Jay Forrest says, "Our continued success as a company depends on carefully listening to our customers and their needs. So we paid attention when professional woodworkers and serious hobbyists told us they wanted a blade that would give them exceptional splinter control for applications involving fine molding and super fine miter cuts. Based on their input, we developed and successfully field tested this latest Chop Master with its 12" diameter and 5/8" bore. I am pleased to say that the initial reaction to this latest addition to our Signature Line has been very positive."

Quality Engineered for Performance and Reliability
All Forrest blades-including the new Signature Line Chop Master (Catalog # CM12905115A)-are made with super-hard, corrosion-resistant C-4 micro-grain carbide. As a result, they can maintain their performance for up to 300% longer between sharpenings. Proprietary grinding techniques and hand straightening guarantee the finest cutting edge possible. Exceptional perimeter concentricity, perfect plate flatness, and a side runout to +/- .001" help assure outstanding performance and reliability. In addition, Forrest stands behind its blades with a 30-day, money-back guarantee and offers state-of-the-art factory sharpening at reasonable rates.

American Pride and Workmanship
Forrest Manufacturing was founded in 1946. It is the only leading supplier of quality blades that continues to manufacture its products in the United States. A family-owned business, Forrest backs its extensive line of precision-engineered products with a firm commitment to friendly, knowledgeable customer service. Among the company's many custom and specialty blades are the Woodworker II, Dado King, Duraline, Concave Face, and nonferrous cutting blades.

Forrest blades can be obtained direct from the factory, as well as from quality dealers, retailers, and catalogs. For more information, call 1-800-733-7111 or visit www.ForrestBlades.com.

More from Software