Captive Panel Screws feature self-clinching design.
Press Release Summary: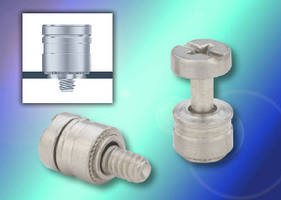 Offering alternative to spring-loaded versions, PEM® Type PFHV™ Screws are no-spring steel fasteners integrating captive screw to eliminate potential risk for damage to internal components associated with unsecured hardware. Screws are engineered for use with aluminum or steel sheets as thin as .036 in. and exhibiting hardness of HRB 60 or less on Rockwell B Scale or HB 107 or less on Brinell Scale. Available in 2 lengths, screws come in thread sizes from #4–40 through #8–32 and M3–M4.
---
Original Press Release:

Patented PEM® Type PFHV(TM) Self-Clinching Captive Panel Screws Designed as Lower-Cost Alternatives to Spring-Loaded Versions



Patented PEM® Type PFHV™ self-clinching captive panel screws from PennEngineering® introduce lower-cost alternatives to conventional spring-loaded versions.  These no-spring steel fasteners integrate a captive screw to keep loose parts to a minimum and eliminate the potential risk for damage to internal components associated with unsecured hardware.  They offer ideal solutions to attach thin metal sheets while enabling subsequent access to an assembly whenever necessary.  Their compact and low profile design especially suits applications where space or access areas for hardware may be restricted.



Designers can additionally specify MAThread® anti cross-thread technology as a safeguard to correct off-angle thread mating and promote proper alignment during installation.  A Torx® recess can further be supplied instead of the standard universal slot/Phillips drive.



PEM Type PFHV captive panel screws are engineered for use with aluminum or steel sheets as thin as .036" / 0.92mm and exhibiting hardness of HRB 60 or less on the Rockwell "B" Scale or HB 107 or less on the Brinell Scale.  They install easily and quickly by squeezing them into properly sized holes using a PEMSERTER® press or other standard equipment to develop sufficient force.  The fasteners then clinch permanently into place with the side opposite the fastener remaining flush and become an integral part of an assembly.



These captive panel screws are available in two screw lengths and with thread sizes from #4-40 through #8-32 and M3 through M4.



Detailed specifications, CAD models, and performance data (Bulletin PF) for the RoHS-compliant fasteners can be accessed at www.pemnet.com.



Contact:

Michael J. Rossi

PennEngineering®

5190 Old Easton Road

Danboro, PA 18916-1000 USA 

Phones: 800-237-4736 (toll-free in the U.S.) or 215-766-8853

Fax: 215-766-0143 

Web site:  www.pemnet.com



PennEngineering® is a licensee for MAThread Inc. (MAThread®) and Acument Global Technologies (Torx®)







More from Fasteners & Hardware