Captive Access Panel Screws are available with color knobs.
Press Release Summary: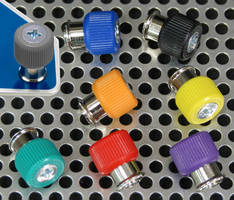 Integrating captive screw in spring-loaded assembly, PEM® CAPS® all-in-one solutions securely attaches panels, covers, drawers, racks, or other access points and enables ready access. PC/ABS color knobs can be specified, and anti-cross threading technology corrects off-angle thread mating while ensuring proper alignment during installation. By pressing into prepared mounting holes, RoHS-compliant products install permanently in aluminum or steel sheets as thin as .036 in.
---
Original Press Release:

Designed for Easy Handling and Ready Access into Assemblies: PEM® C.A.P.S.® Captive Access Panel Screws Introduce 'All-In-One' Hardware Solutions with Color Knobs



PEM® C.A.P.S.® captive access panel screws integrate a captive screw in a spring-loaded assembly to provide "all-in-one" hardware solutions to securely attach panels, covers, drawers, racks, or other access points and subsequently enable ready access inside whenever necessary.  Their integrated screw eliminates handling, installation, and service problems typically resulting from loose hardware and further reduces the overall parts count.  The PC/ABS color knobs can be specified to designate service access levels, reference operating and/or maintenance instructions, and/or enhance the external appearance of an assembly, among other possibilities.



These fasteners additionally deliver benefits from anti cross-threading technology by reliably correcting off-angle thread mating and ensuring proper alignment during installation.



PEM C.A.P.S. captive access panel screws install permanently in aluminum or steel sheets as thin as .036" / 0.92mm by pressing them into properly prepared mounting holes.  A proprietary shoulder on the fastener's retainer creates a positive stop feature to confirm complete and reliable installation.  The fasteners can be supplied in several mounting styles (self-clinching, flaring, or floating) and in multiple screw lengths with thread sizes from #4-40 through #10-32 / M3 through M5.



A Phillips drive allows for tool access and the robust knurled knob can be activated for hand operation.  Knobs can be specified either in standard black or in red, orange, yellow, green, blue, violet, or metallic.  Custom colors can be developed.



Detailed specifications, installation animation, CAD models, and performance data (Bulletin PF) for these RoHS-compliant fasteners can be accessed at www.pemnet.com



Contact Michael J. Rossi, PennEngineering®, 5190 Old Easton Road, Danboro, PA 18916-1000 USA.  Phones: 800-237-4736 (toll-free in the U.S.) or 215-766-8853; Fax: 215-766-0143.  Web site:  www.pemnet.com

More from Materials