Floor, Lift Truck and Conveyor Scales
Capsule Filling Machine features integrated checkweigher.
Press Release Summary: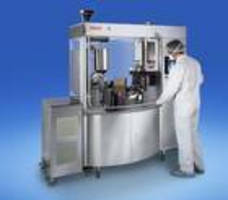 Equipped with automatic troubleshooting function, Model GKF 1400 ASB can fill combination of powders, pellets, liquids, and diverse range of tablets. Integrated checkweigher enables real-time automatic fill adjustment, while attached capsule body scanner ensures production quality by detecting and removing incomplete capsules prior to filling process. With ability to manage several dosing stations, GKF 1400 ASB provides production capacity of 84,000 capsules/hr.
---
Original Press Release:

Bosch's GKF 1400 for Medium Output Capsule Filling Now with 100 Percent Control



New checkweighing unit ensures quality control

Automatic troubleshooting limits product waste and reduces downtime

Versatile technology enables filling of powders, pellets, liquids and tablets

Bosch Packaging Technology announces that its GKF 1400 ASB 100% capsule filling machine now features an integrated checkweigher for 100% control of all processed capsules. The machine features automatic troubleshooting and has the ability to fill a combination of powders, pellets, liquids and a diverse range of tablets.

The integrated checkweigher also enables real-time automatic fill adjustment to limit product waste, which increases output, reduces downtime, and allows for greater production efficiency. A function of the automatic troubleshooting, the attached capsule body scanner ensures production quality by detecting and removing incomplete capsules prior to the filling process and preventing blockages to the infeed. Waste build-up inside the machine caused by incomplete capsule closing is virtually eliminated.

"The addition of a checkweigher to the GKF 1400 is central to ensuring production quality," says Carl Larson, Sales Director, Product Division Pharma Solid at Bosch Packaging Technology in Minneapolis. "With further enhancements like the capsule body scanner, we are continually striving to increase the overall effectiveness of our technology."

The GKF 1400 ASB has the ability to manage several dosing stations and is designed for production capacity of 84,000 capsules per hour. All documentation for risk analysis, functional analysis and control of the pharmaceutical manufacturing processes is guaranteed in accordance with process analytical technology (PAT) regulations.

About Bosch Packaging Technology

Bosch Packaging Technology, based in Waiblingen (Germany), is one of the leading suppliers for complete systems for packaging and process technology. In 16 countries worldwide the company develops, produces and distributes modules and systems for the pharmaceutical, confectionery, and cosmetics industries, as well as other food and non-food industries. In 2009, 4,800 associates achieved a turnover of approximately 702 million euros. For more information, please visit www.boschpackaging.com.

The Bosch Group is a leading global supplier of technology and services. According to preliminary figures, some 270,000 associates generated sales of roughly 38 billion euros in the areas of automotive and industrial technology, consumer goods, and building technology in fiscal 2009. The Bosch Group comprises Robert Bosch GmbH and its more than 300 subsidiaries and regional companies in over 60 countries. If its sales and service partners are included, then Bosch is represented in roughly 150 countries. This worldwide development, manufacturing, and sales network is the foundation for further growth. Each year, Bosch spends more than 3.5 billion euros for research and development, and applies for over 3,000 patents worldwide. With all its products and services, Bosch enhances the quality of life by providing solutions which are both innovative and beneficial.

The company was set up in Stuttgart in 1886 by Robert Bosch (1861-1942) as "Workshop for Precision Mechanics and Electrical Engineering." The special ownership structure of Robert Bosch GmbH guarantees the entrepreneurial freedom of the Bosch Group, making it possible for the company to plan over the long term and to undertake significant up-front investments in the safeguarding of its future. Ninety-two percent of the share capital of Robert Bosch GmbH is held by Robert Bosch Stiftung GmbH, a charitable foundation. The majority of voting rights are held by Robert Bosch Industrietreuhand KG, an industrial trust. The entrepreneurial ownership functions are carried out by the trust. The remaining shares are held by the Bosch family and by Robert Bosch GmbH.

Additional information can be accessed at www.bosch.com.

© ABI 2010 All Rights Reserved

Related