Caplugs Parts Used on Devices to Reduce the Spread of COVID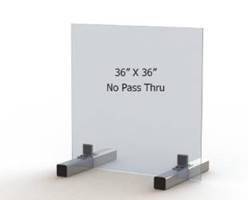 BUFFALO, N.Y., June 15, 2020 -- Caplugs line of finishing glides is now being used to plug open tube ends on new cough and sneeze barriers, along with other safety devices designed to reduce the spread of COVID-19. As businesses begin to re-open, the need for creative solutions to aid in protection and social distancing has led to a new generation of devices designed to create separation. Caplugs Director of Medical Business Development, Hugh Davies said, "It is a privilege to be able to contribute components that are being used in reducing the spread of COVID-19, as well as aiding in vaccine research, sample/collection diagnostics, and patient care."
Caplugs is filling many requests for plastic plugs being used in the construction of new, innovative methods to enforce social distancing and increase safety. These devices are used in a variety of ways from helping protect cashiers with an acrylic barrier, to serving as a transparent room separator for safer open work environments.
Some devices are even creating physical social distancing guidance for production lines. These temporary structures provide an added layer of safety, while their transparency creates a feeling of normalcy and connection during these difficult times.
"This pandemic has necessitated a new generation of structures and separation devices to help businesses operate safely," added Raj Rajaram, Senior Vice President of Marketing. "Caplugs line of finishing glides is just a small component of these solutions, but we are proud to collaborate with our customers to quickly deliver creative solutions so they can ensure a safe environment when bringing people back to work."
For more information on Caplugs' complete line of product protection, masking solutions and custom molded components, visit www.caplugs.com.
ABOUT CAPLUGS
Caplugs is a global manufacturer of plastic protective closures and masking devices used by more than 25,000 customers in a variety of industries, including medical, energy, automotive, aviation, hydraulics, masking, electronics, industrial machinery and packaging. Four hundred million parts are in stock and ready to ship. For more information, to place orders online or request free samples, visit www.caplugs.com. Customer service representatives are available to discuss any concerns or questions at 1-888-CAPLUGS.
Contact: Marissa Colosanti
Gelia
PH: 716.629.3251
Email: [email protected]