Capless Flash Drive features USB 3.0 connectivity.
Press Release Summary: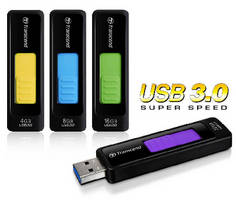 Combining USB 3.0 standard with capacities of 4, 8, 16, and 32 GB, JetFlash 760 facilitates transfer, storage, and sharing of numerous or large files. With flick of thumb, users can push up or pull down USB connector for one-handed operation. Inseparable outer case optimizes drive ruggedness as well as tactile and visual appeal.
---
Original Press Release:

Transcend Launches Capless USB 3.0 Flash Drive



New Delhi: Transcend Information, Inc. (Transcend ), a worldwide leader in storage and multimedia products, today launched its latest USB 3.0 flash drive, the JetFlash 760. The new JetFlash 760 features USB 3.0 connectivity and a smart, colorful push-out USB connector, striking a well-executed balance between performance and style.

By taking advantage of next-generation USB 3.0 technology, the JetFlash 760 is capable of providing more than double the performance speed compared with the previous generation. Combining the latest USB 3.0 standard with vast storage space, the JetFlash 760 makes it much easier and less time-consuming to transfer, store, and share numerous or large files than traditional USB 2.0 flash drives.

Moreover, the JetFlash 760 features a handy and colorful sliding USB connector. With a simple flick of the thumb, users can effortlessly push up or pull down the connector for easy one-handed operation. The JetFlash 760's inseparable outer case makes the drive more solid and rugged, and improves its tactile and visual appeal thanks to its use of ultrasonic welding technology.

Transcend offers a full range of USB 3.0 solutions, including the JetFlash USB flash drives, the StoreJet external hard drives, card readers, and interface add-on cards. The entire JetFlash lineup is backed by Transcend's Limited Lifetime Warranty. For added value, users can freely download the exclusive Transcend Elite data management tools for better mobile productivity. With the aid of this software, users can easily turn the flash drive into a key to log on to website accounts, temporarily lock a computer to prevent unauthorized access, and more.

Offered in four different storage capacities, the JetFlash 760 is now available at a suggested retail price of Rs.860/- for the 4GB model, Rs.1162/- for the 8GB model, Rs.1720/- for the 16GB model, and Rs.3390/- for the 32GB model approximately.

About Transcend Information Inc.

Transcend is a globally recognized leader in the manufacture of memory products and peripherals. Established in 1988, Transcend offers a full line of standard and proprietary memory modules, USB flash drives and portable hard drives, solid-state disks, MP3 players, flash memory cards, card readers, and multimedia products. Transcend has manufacturing facilities in Taiwan and China, and has offices in the United States, the United Kingdom, Germany, The Netherlands, Japan, Taiwan, and China. For more information, please visit http://in.transcend-info.com/