Capacitors perform 3-phase AC power harmonic filtering.
Press Release Summary: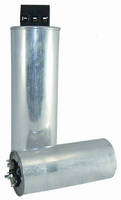 Intended for use on AC output of large inverter system, PFCH capacitor series filters undesirable harmonics before power is delivered to grid or load. Each capacitor is made with 3 self-healing metallized polypropylene windings, connected in delta, and enclosed in cylindrical aluminum case. PFCH ratings range from 0.5–17.5 KVAR at 240 Vac, 0.5–30 KVAR at 480 Vac, and 1–25 KVAR at 600 Vac. Standard cases range from 2.0–3.5 in. dia x 5.75–13.73 in. long.
---
Original Press Release:

3-Phase AC Power Harmonic Filter Capacitors



Liberty, SC – Cornell Dubilier Electronics, Inc. announces availability of its new PFCH capacitor series for 3-phase AC power harmonic filtering. Intended for use on the AC output of large inverter system, Type PFCH are designed to filter undesirable harmonics before power is delivered to the grid or load. Typical applications include but are not limited to automatic power factor correction equipment, wind turbine PFC controllers, solar inverter output filters, tuned and detuned capacitor banks and power line conditioning.



Each PFCH capacitor is made with three self healing metallized polypropylene windings, connected in delta, and enclosed in a cylindrical aluminum case filled with environmentally friendly fluid. Built in bleeder resistors reduce voltage to safe levels when capacitors are taken off line for maintenance. To ensure an open and safe failure mode at end of life, type PFCH capacitors utilize a UL810 tested and approved internal mechanical pressure interrupter that disconnects the capacitor winding from the circuit before pressure exceeds unsafe limits.



Type PFCH ratings range from 0.5 KVAR to 17.5 KVAR at 240 Vac, 0.5 to 30 KVAR at 480 Vac, and 1 KVAR to 25 KVAR at 600 Vac. Standard case sizes range from 2.0 inches to 3.5 inches in diameter with lengths ranging from 5.75 inches to 13.73 inches. Larger case sizes and KVAR ratings are available upon request.



For power factor correction applications not requiring higher harmonic filtering, the company offers Type PFCS with greater KVAR ratings needed to achieve unity power factor correction.



In OEM quantities Type PFCH capacitors are available with pricing from $35. Samples are available in 4–6 weeks, production in 8–10 weeks.



Since its founding in 1909, Cornell Dubilier has been dedicated to advancing capacitor technology for new applications. The company combines innovative products with engineering expertise to provide reliable solutions for inverters, wind and solar power, electric vehicles, power supplies, medical power, motor drives, HVAC, motors, welding, aerospace, telecom, and UPS systems.



A global company, Cornell Dubilier has ISO-9001 certified manufacturing and distribution facilities in Liberty, SC; New Bedford, MA; Mexicali, Mexico; and Shenzhen, China.



For inquiries, contact:

Jack Chmura

Phone: (508) 996-8561

More from Cleaning Products & Equipment