Capacitors meet B level MIL PRF 49470 specifications.
Press Release Summary: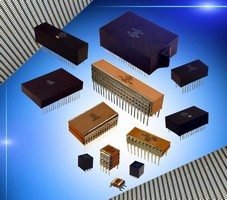 Available in case codes 1, 2, and 6, 500 V rated SMPS capacitors are characterized by low ESR, low ESL, and high current carrying capability. They come in 3 main lead configurations, N (thru hole) and J or L (surface mount), and feature leadframes that allow capacitor to absorb stress and strain. Military applications include I/O filters of high power and high voltage power supplies as well as in bus filters, dc snubber applications for inverters and also high current power supplies.
---
Original Press Release:

Expanding on a Wide Portfolio of High Reliability Capacitors...



AVX Expands on M49470 SMPS Qualification

MYRTLE BEACH, S.C. (August 26, 2008) -- AVX Corporation, a leading manufacturer of advanced passive components and interconnect solutions, has expanded its qualification to the MIL PRF 49470 B level for Switch Mode Power Supply Capacitors with the recent addition of 500V rated SMPS capacitors in case codes 1, 2 and 6. AVX is a pioneer in the development of application specific capacitors and has been at the forefront of efforts to support and
expand the M49470 MIL PRF. Targeted military applications
for these devices include but are not limited to input/output filters of high power and high voltage power supplies as well as in bus filters, DC snubber applications for inverters and also high current power supplies.

"Like our other capacitors in the MIL QPL, these devices are characterized by low ESR, low ESL and high current carrying capability, making them ideal replacements for aluminum and tantalum electrolytic technology while maintaining a very high degree of reliability. This extension allows AVX to offer B level MIL PRF 49470 reliability among all case sizes and all voltage ranges currently offered by the MIL PRF 49470. AVX also has many T level qualifications and will be expanding on those shortly. These devices are available in 3 main lead configurations, the N (thru hole) and J or L (surface mount) said Scott Harris, AVX marketing manager.

"The leadframes allow the capacitor to absorb the stress and strain that would cause a standard chip to fail by providing strain relief via the leadframe. Many customers have moved away from aluminum electrolytics."

Delivery ranges from stock to 12 weeks.

For more information, contact AVX at 801 17th Avenue South, Myrtle Beach, S.C. 29578; by calling 843-448-9411; by fax at 843-444-2864; or on the Web at www.avx.com.

AVX Corporation is a leading international supplier of electronic passive components and interconnect solutions with 22 manufacturing and customer support facilities in 14 countries around the world. AVX offers a broad range of devices including capacitors, resistors, filters, timing and circuit protection devices and connectors. The company is publicly traded on the New York Stock Exchange (NYSE:AVX).

For more information, contact:
Scott Harris
AVX Product Marketing Manager
Advanced Products
843-946-0641
sharris@avxus.com

More from Chemicals & Gases