Capacitors are suited for power distribution applications.
Press Release Summary: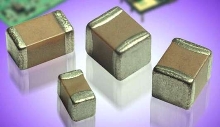 Supplied in 0805, 1206, 1210, and 1812 case sizes, HiCV multilayer ceramic capacitors (MLCCs) are 50 and 100 V input filters with base metal electrode system and soft termination system. Capacitor for input circuitry has 0.1-2.2 mF capacitance range, and soft termination system reduces transfer flex stress to component body. Suited for use as input filter to DC-DC converter, products have 0% failure rate with no ESR change for up to 3,000 cycles.
---
Original Press Release:

AVX Soft Termination High CV Capacitors Designed Specifically for Power Distribution


Soft termination system gives capacitors improved reliability and performance...

Myrtle Beach, S.C. (April 14, 2005) - AVX Corporation, a leading manufacturer of passive components, now offers a range of 50V and 100V high capacitance input filters in smaller case sizes of 0805, 1206, 1210 and 1812. Specifically designed for power distribution applications, the capacitor for input circuitry has a range of capacitance values from 0.1mF to 2.2mF. High capacitance values make the capacitors ideal for use as an input filter to a DC-DC converter because the inherent low ESR reduces the ripple voltage across the input terminals. The capacitors are also appropriate for use in POE (Power over Ethernet) applications.

These multilayer ceramic capacitors (MLCC) feature a base metal electrode system and a soft termination system that provides low ESR and improved user reliability performance compared to standard termination systems.

"The advantage of a soft termination system is that it reduces the transfer flex stress to the component body, providing improvements in bend test and temperature cycling performance," said Tim Hollander, AVX product manager. "Board bend tests improve by a factor of two to four times and there is a 0% failure rate with no ESR change for up to 3000 cycles."

Pricing varies pending on case sizes as well as quantity.

For more information on AVX's HiCV MLCC input capacitors, including performance, pricing, and delivery information, please contact AVX Sales and Marketing at 801 17th Avenue South, Myrtle Beach, S.C. 29578; by calling 843-946-0414; by fax 843-626-5186; or on the web at www.avxcorp.com. Product brochures, sample kits and cross-reference on COSE and on-line are available.

AVX Corporation is a leading international supplier of passive components and connectors with worldwide manufacturing facilities, offering the world's broadest selection of passive electronic components and connectors. The company is traded on the New York Stock Exchange (NYSE: AVX).

More from Agricultural & Farming Products