Capacitor Tester performs in-circuit ESR and DCR testing.
Press Release Summary: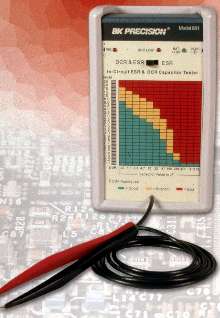 Model 881 ESR and DCR Capacitor Tester measures equivalent series resistance of electrolytic capacitors in or out of circuit, and can also be used to measure low value non-inductive resistors. Tester, in DCR and ESR Mode, detects shorted capacitor in its DCR cycle and also determines its ESR value. Unit measures ESR and DSR from 0.1-30 ohms, automatically calibrates internal signal, and incorporates 3-color, front panel chart that shows ESR readings of Good, Fair, and Bad.
---
Original Press Release:
B + K Precision® Introduces Portable In-Circuit ESR & DCR Capacitor Tester
YORBA LINDA, Calif., June 30, 2003...B+K Precision Corporation, one of the industry's leading suppliers of test and measurement products, today announced the addition of the Model 881, a new portable In-Circuit ESR and DCR Capacitor Tester to its expanding product line. Utilizing a standard 9VDC battery or optional AC wall adapter as the power source, the new compact hand-held tester can be used to measure the equivalent series resistance of electrolytic capacitors in or out of circuit and can also be used to measure low value non-inductive resistors. Priced at a low $199, the Model 881 is a must for anyone that tests or trouble shoots printed circuit boards. In the past, LCR meters were used to test the value of a capacitor (testing it out of circuit). These meters will indicate that a bad capacitor is good because it only measures it capacitance value, and a bad capacitor can still store the correct amount of charge when it is tested by a LCR meter. By using the Model 881 in its DCR & ESR Mode, the tester can quickly detect a shorted capacitor in its DCR cycle and also determine it's ESR value, letting you know right away if a capacitor is good or bad. By performing this test in-circuit, a technician can quickly test many capacitors on the printed circuit board reducing the amount of time normally spent on trouble shooting. Model 881 Features: o Measures ESR with a range of 0.1 to 30 ohms o Three color front panel chart shows ESR readings of Good, Fair, and Bad o Measures DCR with a range of 0.1 to 30 ohms o Automatically calibrates internal signal o 15mVp-p Output test voltage (will not turn on any solid-state devices) o Includes a one-handed tweezers test probe o Uses a standard 9VDC battery as power source The Model 881 is a small portable tester specially designed to measure Equivalent Series Resistance (ESR) of capacitors in the range of 0.47uf to 2200uF, in or out of circuit. The output test frequency is a 100KHz sine wave, the output voltage is 15mV pp and will not turn on any solid-state devices in the circuit under test. To measure ESR of a capacitor, the uses holds the supplied tweezers test probe across the capacitor's leads. The meter's probes are non-polar. When the Model 881 is turned on, it will automatically calibrate its internal circuit and will beep once to indicate that it is ready to continue. The tester has two modes of performing in-circuit ESR measurements; ESR Mode, and DCR &ESR Mode. In the ESR Mode, the meter performs a set cycle of tests each time it is connected to a capacitor. First it discharges the capacitor, then it measures the ESR and indicates the range of the value with the 25 LED bar. It also sounds one or more times depending on the ESR of the capacitor (beeps from one to five beeps, depending on ESR - one beep = 0.5 ohms to five beeps = 8 to 30 ohms). The three-color chart on the front panel shows typical electrolytic capacitor ESR readings. If the capacitor's ESR range is in the green areas, it is good. If it is in the red range, it must be replaced. The yellow areas indicate that the capacitor is questionable and it is up to the user to determine whether to replace the capacitor or not. In the ESR mode, the tester will indicate that a shorted capacitor is good because it does not perform the DCR measurement. Only in the DCR & ESR Mode will the tester detect a shorted capacitor in its DCR cycle. In the DCR & ESR Mode, the tester first discharges the capacitor, then checks the DC resistance and if the resistance is less than 30 ohms, it will stop the DCR cycle. Otherwise, it measures the ESR and indicates the range of the value on the 25 LED bar. In this mode, the tester a shorted capacitor in its DCR cycle. If the meter stops in the DCR cycle, it first sounds an alarm and turns on the DCR LOW LED, then indicates DC resistance by flashing the LED on the LED bar and also sounds one or more beeps depending on the DC resistance. While in the ESR mode, the tester can be used to measure low value non-inductive resistors. It may also be used to measure small inductors and compare meter readings to the known good inductors. Priced at only $199, the Model 881 offers exceptional performance at a very reasonable cost. It is available for immediate delivery and comes complete with user manual, 9VDC battery and tweezers test probe. An optional AC adapter model number BE 12 is available. For over 50 years, B&K Precision Corporation has developed a reputation for excellence in the design and manufacture of high quality, reliable and cost-effective test and measurement products. Recognized for their price-performance value, ease of use, measurement accuracy and application flexibility, B&K Precision Corporation products are available worldwide through a global network of authorized distributors. For additional information, contact B&K Precision Corporation, 22820 Savi Ranch Parkway, Yorba Linda, California, 92887, Tel: (714) 921-9095, Fax: (714) 921-6422 or visit our Web site at www.bkprecision.com
More from Mechanical Power Transmission