Capacitive Proximity Switch offers 150 nm p-p resolution.
Press Release Summary: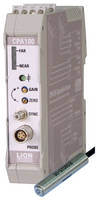 Offering 15 kHz (-3 dB) bandwidth, CPA100 Capacitive Sensor has setpoint (switched) output to indicate presence/absence, but nonlinear analog output is capable of resolutions as low as 15 nm RMS. Other features include panel range indicator and user adjustments for Offset (Zero) and Gain. Probe selection enables measurement from 0.05-6 mm, and offset/gain can be controlled with remote potentiometers. Also, sync connectors allow interference-free use of multiple sensors with same target.
---
Original Press Release:

New Capacitive Proximity Switch has High-Resolution Analog Output and User Adjustments



The CPA100 Capacitive Sensor from Lion Precision has a setpoint (switched) output to indicate presence/absence like a typical proximity switch, but the nonlinear analog output is capable of resolutions as low as 15 nm RMS (150 nm p-p).

The new sensor features a unique front panel range indicator to alert the operator to out-of-range conditions, DIN rail mount electronics, and user adjustments for Offset (Zero) and Gain. A selection of probes provides standard measurement ranges from 0.05 to 6 mm. Offset and Gain can also be controlled with remote potentiometers if the device is enclosed in a control panel. Sync connectors allow interference-free use of multiple sensors with the same target.

Typical applications for the CPA100, besides basic position monitoring, include production line part sorting; double sheet detection in printers or related processes; and monitoring of processes involving nonconductive materials such as films, fabrics, and applied coatings such as adhesives.

More detailed information is available at www.lionprecision.com/cpa100

CPA100 Specifications:
Resolution: 0.03%F.S. RMS @ mid-range @15 kHz (typical)
Bandwidth: 15 kHz (-3dB)
Maximum Temp. Drift: Electronics: 0.2% F.S./°C; Probe: 0.05% F.S./°C
Analog Output: 0-10 VDC
Setpoint Output: Solid state switch closure; 30 VAC/60 VDC max
Operating Temperature: 40°F-120°F; 4°C-50°C
Input Power: 15-24 VDC, 2.5 W

Lion Precision provides high-resolution capacitive and eddy-current noncontact displacement sensors that are optimized for specific applications including custom designs. Precision position and high-speed motion are common applications for these high-performance sensors. Lion Precision products are used in large industrial measurements and subnanometer resolution measurements of the micro- and nano-technology worlds.

Lion Precision, an ISO9001:2008 registered company, was founded in 1958 by Dr. Kurt Lion, a professor at MIT (Massachusetts Institute of Technology). He was the first to develop capacitive sensing into a broad industrial measurement solution.

For more information on Lion Precision, visit www.lionprecision.com or contact the company directly at:

Lion Precision
563 Shoreview Park Rd.
St. Paul, MN 55126 USA
651-484-6544
www.lionprecision.com
info@lionprecision.com

More from Controls & Controllers