Capacitance Manometer measures from 0.1-1,000 Torr.
Press Release Summary: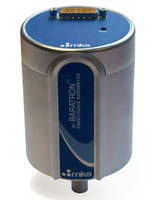 Internally heated to 45, 80, or 100°C, a-Baratron® Capacitance Manometer provides accurate vacuum and pressure measurements. Unit features pushbutton zero, all-digital architecture, and sensor made from Inconel and Incoloy nickel alloys for corrosion resistance. Unit can be equipped with standard sensor or patented Etch Baffle sensor technology that minimizes process contamination. Fully CE and RoHS-compliant, manometer operates on ±15 Vdc input and provides 0–10 Vdc analog output signal.
---
Original Press Release:

MKS Introduces a-Baratron® Capacitance Manometer



Offers vacuum, pressure measurements with high accuracy, excellent repeatability



Andover, MA — MKS Instruments, Inc. (NASDAQ: MKSI), a global provider of technologies that enable advanced processes and improve productivity, has introduced the a-Baratron® Capacitance Manometer, an advanced high-performance, heated absolute capacitance manometer with better accuracy, higher tolerance to ambient temperature changes and excellent repeatability. The a-Baratron manometer is internally heated to 45°, 80° or 100°C, and has a pushbutton zero that allows service intervals up to four times longer than earlier models. It is fully back compatible with earlier MKS and competitive products.



The manometer offers full-scale measurement ranges from 0.1 Torr to 1,000 Torr (13.3 Pa to 133.3 kPa). Its all-digital architecture and advanced new sensor heating system provide long-term performance and reliability. As with previous Baratron manometers, the sensor is made from Inconel and Incoloy nickel alloys for the same superior corrosion resistance.



The a-Baratron manometer can be equipped with the standard sensor or MKS' patented Etch Baffle sensor technology that greatly reduces process contamination. It can be configured for both new and existing processing systems. It operates on ±15VDC input voltage, and has a standard 0–10VDC analog output signal. It is fully CE and RoHS (Restriction of Hazardous Substances) compliant, and is 100% back-compatible with earlier 100- and 600-series analog Baratron capacitance manometers, as well as many competitive capacitance diaphragm gauges.



About MKS:

MKS Instruments, Inc. is a global provider of instruments, subsystems and process control solutions that measure, control, power, monitor and analyze critical parameters of advanced manufacturing processes to improve process performance and productivity. Our products are derived from our core competencies in pressure measurement and control, materials delivery, gas composition analysis, control and information technology, power and reactive gas generation, and vacuum technology. Our primary served markets are manufacturers of capital equipment for semiconductor devices, and for other thin film applications including flat panel displays, solar cells, light emitting diodes, data storage media, and other advanced coatings. We also leverage our technology in other markets with advanced manufacturing applications including medical equipment, pharmaceutical manufacturing, energy generation, and environmental monitoring.

More from Printing & Duplicating Equipment