Cap Sorter suits mid-range production applications.
Press Release Summary: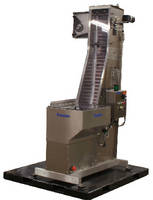 Featuring 8 ft³ cap bin, which sits flush to machine, WSI 300 Waterfall-Style Cap Sorter processes 100-300 bottles/min. System can be loaded at floor level, which keeps dust from corrugated shipping cases below level of capping operation and helps maintain clean environment where closure meets bottle, jar, or jug. Since WSI 300 can handle wide range of cap diameters and styles on single set of cleats, few if any change parts are required when switching between different sized closures.
---
Original Press Release:

New Cap Sorter from Fowler Products Ideal for Mid-Range Production



ATHENS, Georgia, - Fowler Products, a division of Pro Mach, introduced today a compact waterfall style cap sorter for production lines running between 100 and 300 bottles per minute. The new sorter offers a host of features for these mid-range production applications. There are additional benefits for lines where frequent changes in cap sizes are made, the capping area has a low ceiling, and/or dust must be kept to a minimum.

"Fowler Products manufactures waterfall sorters for high-speed 1200 caps per minute capping applications," said Andy Monroe, Fowler Products sales manager. "A number of corporations asked us for mid-range waterfall sorters because they like the ease of use, ergonomic, and productivity features of this type of machine. They came to us with this request because of our capping equipment integration expertise."

The new WSI 300 waterfall sorter has an eight-cubic-foot cap bin, which sits flush to the capping machine for minimum footprint. The sorter's height was kept to a minimum for greater application in low ceiling environments. The belt width was reduced as compared to high speed sorters. This also contributes to space savings.

With the WSI 300, operators have an easier time loading and monitoring filling intervals than they typically do with top plate mounted rotary sorters, which require operators to climb a ladder to load the cap bin or the use of a secondary bulk cap feeder. Loading a bin at floor level also keeps dust from corrugated shipping cases below the level of the capping operation and helps to maintain a cleaner environment where the closure meets the bottle, jar, or jug.

The WSI 300 can handle a wide range of cap diameters and styles on a single set of cleats so few if any change parts are required when switching between different sized closures. This creates minimum downtime and higher productivity. It also gives the capping application greater flexibility.

For more information on Fowler Products WSI 300 mid-range waterfall cap sorter, call 1-877-549-3301 and visit www.fowlerproducts.com.

About Fowler

Fowler Products was founded in Athens, Georgia, in 1952. The company has an equity partnership with Andre Zalkin & CIE, Rueil-Malmaison Cedex, France, and is licensed to manufacture Zalkin bottle capping machinery. Furthermore, Fowler has the distribution rights for Zalkin bottle capping systems in the United States and the Caribbean Basin. In 2000, Fowler became a division of the Pro Mach group of packaging companies. For more information on Fowler products, services, and contacts, please visit www.fowlerproducts.com.

About Pro Mach

Pro Mach, Cincinnati, Ohio, is a leading provider of integrated packaging products and solutions for food, beverage, household goods, pharmaceutical, and other diverse consumer and industrial companies. Through three business units and related divisions, Pro Mach provides equipment, training, installation, and parts in primary packaging, end-of-line packaging, and identification and tracking. ProMachInc.com