Cantina Laredo Standardizes on Boon Edam Revolving Door for Main Entrance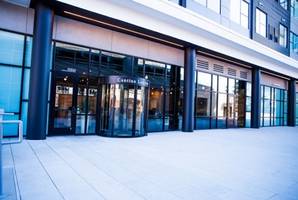 Restaurant brand specifies BoonAssist TQM for added prestige, customer convenience and smooth operation
Lillington, North Carolina, December 16, 2020 - Boon Edam Inc., a global leader in security entrances and architectural revolving doors, today announced the installation of a Boon Edam revolving door at the new Cantina Laredo in Virginia Beach, VA. The addition of the door provides both convenience and prestige to the newly-built restaurant.
An Unconventional Entrance Location
Situated in the growing Town Center of the city of Virginia Beach, Cantina Laredo is located on the second floor of a mixed-use development. The ground floor features retail stores including Williams-Sonoma and Pottery Barn; above the restaurant are several floors with approximately 300 residential units. Total square footage for the restaurant is approximately 8,000 square feet; at 100% occupancy (pre-Covid-19), the restaurant would serve up to 700 customers on a weekend night and 500 on a weeknight.
"Opening a restaurant on the second floor is something new for the Cantina Laredo brand, so it was a bit unconventional about how construction had to be done," said Niraj Patel, Financial Business Analyst, THE LAP GROUP, a franchisee of Cantina Laredo. "From the beginning, we knew we wanted a rotating door rather than just a traditional push or pull door. The restaurant got off to a bumpy start, because we opened in late January 2020, just before COVID-19. But we're back open now and we are getting lots of great customer feedback."
Improving Traffic Flow and Aesthetics
According to Patel, the primary reason for a revolving door was to improve traffic flow. "During normal times, we would see 600-plus customers a day, so you can only imagine the chaos of what would happen when you have a large party of 15-20 customers trying to leave while several groups were trying to get in. We wanted to cut that down as much as possible."
Another key reason for this decision was the fact that revolving doors provide a better appearance for the venue. "That door is the first and last thing that you see, so you want to have a really elegant entrance and exit," Patel continued. "Not only does it look much better than a regular door, it also changes the entire ambiance of the entrance. It is definitely more luxurious than a door that you have to push or pull open."
A User-Friendly Revolving Door
Cantina Laredo selected a BoonAssist TQM manual revolving door for their front entrance, which offers a unique low energy drive that reduces the effort of pushing the door wing by up to 50%. "You just give it a little push and it spins itself," said Patel. "The BoonAssist door also stops in the same resting position every time, which eliminates the need for a host or hostess to reposition the door after customers come or go," added Glen Tracy, Vice President, Architectural Revolving Doors, Boon Edam.
Cantina Laredo's parent company, CRO Inc. of Dallas, includes the BoonAssist TQM in their standard specification for the main entrance, which is recommended for all locations. The spec also includes a unique Night Sliding Door option, which consists of two sliding, exterior panels that seal off the throat opening of the door, securing the entry and locking it when the restaurant is closed. This security feature deters break-in attempts and can also be used to close off the entrance during inclement weather or other types of calamities.
Cantina Laredo has found the Boon Edam revolving door to be an ideal choice for restaurant operations. "With customers going in and out at the same time, it's much easier with the revolving door than a traditional door," said Patel. A swing door would not serve the purpose of having this kind of simultaneous multi-functionality. 
Beyond the convenience and functionality of the revolving door, the appearance of the door itself also adds branding value to the location. "On the metal circular frame on the outside of the door, Boon Edam gave us a space for our sign manufacturer to place a Cantina Laredo logo," said Patel. He further confirms that they never considered using a double-door vestibule style entry for the restaurant, since that is "an older design approach."
For Further Information, Please Contact:
Tracie Thomas, Boon Edam
Vice President of Marketing
T: 910 814 8239
E: tracie.thomas@boonedam.com
For Media Queries, Please Contact:
Jayme Cunningham, LRG Marketing
Public Relations
T: 845 358 1801
E: jcunningham@lrgmarketing.com
About Royal Boon Edam
We are proud to be a third generation Dutch family business committed to making people feel welcome and secure through our quality engineered entry solutions. Headquartered in the Netherlands, with a footprint spanning the globe, Royal Boon Edam International is a premium manufacturer of revolving doors, high security doors, turnstiles and Speedlanes. A heritage that exceeds 140 years has resulted in wide expertise in managing the safe transit of people through office buildings, healthcare facilities as well as via public and private spaces. We are truly focused on adding genuine value to our customer's entrances and to a long-term relationship after sales, service and maintenance. We partner, collaborate and become an extension to the customer team to ensure that the project, people and valuables are in safe hands with us. We are your entry experts. Discover more about our latest news at www.boonedam.us/news or follow Boon Edam Inc. on our blog, Facebook, Twitter, and LinkedIn.
More from Controls & Controllers