Canon Launches Oce ProStream 1000 Inkjet Presses with Modern User Interface
Press Release Summary: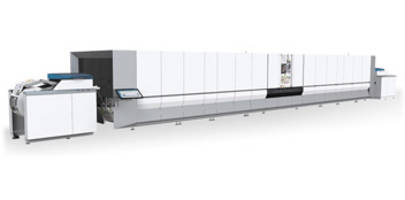 The Océ ProStream 1000 Inkjet Presses are designed for applications printing 1200 x 1200 dpi running at a speed of 262 ft per minute at 22 in. web width. The unit can be fitted seamlessly into workflows that allow integration into existing PDF workflows, IPDS and PDF DFE. The press uses innovative polymer ink set for supporting coated and uncoated media.
---
Original Press Release:
Canon Solutions America Brings the Océ ProStream 1000™ to the U.S.
The Océ ProStream 1000™ is a game-changing success at Specialty Print Communications and Darwill
MELVILLE, N.Y., Sept. 27, 2018 /PRNewswire/ -- Canon Solutions America, Inc., a wholly owned subsidiary of Canon U.S.A., Inc., announced today the impressive results of the Lead Candidate Placement pilot program for the Océ ProStream 1000. Designed for high quality, continuous feed printing at inkjet speeds on a wide range of media, the ProStream helps print service providers to expand their capabilities and access new markets. The successful completion of the first two placements in the U.S.—at Specialty Print Communications and Darwill—has created buzz in the industry. There is a limited number available for the remainder of 2018, and Canon Solutions America is ramping up to full market availability next year.
"The ProStream has enabled our customers to access new business and applications while helping lower production costs. The production speeds on coated media allow them to grow volumes beyond the capabilities of other digital systems," said Michael Poulin, director, Marketing, Production Print Solutions of Canon Solutions America.
The Océ ProStream 1000™
The Océ ProStream 1000 is the latest breed of fast, high-productivity continuous feed inkjet press combining the vibrant colors and quality to rival offset, with the variable-data versatility of digital printing. The Océ ProStream 1000 uses an innovative polymer ink set to support a broad substrate range including coated or uncoated media from lightweight to 9 point and beyond. This continuous feed press fits seamlessly into workflows, allowing easy integration into existing PDF workflows, IPDS and PDF DFE, plus it boasts an intuitive, modern user interface. It offers outstanding quality, relevant content, and short turn-around times for promotional and graphical applications, with the versatility of digital variable data printing.
Specialty Print Communications
For Specialty Print Communications (SPC), a national solutions provider to direct marketers with headquarters in Niles, IL, it's all about what they're doing for their customers. They see the ProStream as providing increased opportunity for them to provide high volume, high quality marketing materials. "It's another lane in our road," said Adam M. LeFebvre, president of SPC. "Marketers have acquired mountains of data, and this ProStream allows them, with our help, to manipulate those mountains into really usable, very highly leveraged marketing materials that provide better ROI than traditional offset ever could."
ProStream unlocks the ability of high speed production of four-color, fully variable, brand quality images from edge to edge of a 20" web, allowing for genuine full variability everywhere on the sheet—improving yield to provide more economy without sacrificing quality. LeFebvre continues, "I can represent beautiful, luxury brands like they're meant to be represented. The quality we achieve shows the beauty of the product—for example, the texture of a high quality leather bag—on a 700,000-piece mailing."
Darwill
For over 60 years, Darwill, a national company with offices in Illinois, Colorado, Georgia and Texas, has delivered data-driven, omnichannel marketing solutions in digital media and direct marketing. "The real value of inkjet is in the data abilities," said Mark DeBoer, director of Customer Experience. "Printing is one thing, but being able to have content that is specific to an individual is what drives the optimal experience. It's the only way to get the true value of marketing."
DeBoer states, "The ProStream has helped us solve two major obstacles: color vibrancy on coated or uncoated media, and of course, full color variability. It nails the color match every time. It's enabled us to return to conversations with customers where in the past, we weren't quite there yet—but with the ProStream, we are. We've run some customer samples, and their reaction is just 'wow'—the price is competitive, and the quality is outstanding, so this is a viable option now," said DeBoer. "I've looked at every inkjet press out there, and I think the ProStream is the best. I know it's unlocking more opportunities for us. We just had a customer in that had very strict standards regarding their logo. Once they saw samples we printed for them on the ProStream, they were amazed at how perfect it came out—they had never seen anything like it from any other inkjet press. The ProStream is helping us make it possible for them to do high volume, fully variable data mailings delivering improved ROI on our customer's marketing efforts."
The Future of Inkjet
The word is out—customers are hearing about the capabilities of the Océ ProStream 1000, and they want to take advantage of the sophisticated, innovative output that it produces. SPC and Canon Solutions America are currently working on the implementation of SPC's second device to accommodate increased demand, and Darwill is anticipating a similar need soon.
For more information on the Océ ProStream 1000, call Canon Solutions America Production Print Solutions at 877-623-4969.
About Canon Solutions America, Inc.
Canon Solutions America provides industry leading enterprise, production, and large format printing solutions, supported by exceptional professional service offerings. With the technology offerings of the Canon and Océ brands, Canon Solutions America helps companies of all sizes find ways to: improve sustainability, increase efficiency, and control costs in conjunction with high volume, continuous feed, digital and traditional printing, and document management solutions. A wholly owned subsidiary of Canon U.S.A., Inc., Canon Solutions America is headquartered in Melville, N.Y. and has sales and service locations across the U.S. For more information on Canon Solutions America, please visit csa.canon.com.
Editorial Contact:
Stephanie Caro
Canon Solutions America, Inc.
631-330-4432
More from Machinery & Machining Tools