Canister Conditioning System provides emissions testing.
Press Release Summary: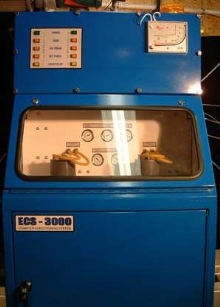 ECS 3000(TM) Canister Conditioning System meets EPA/CARB requirements for emission canister conditioning using butane/nitrogen procedures. It can execute simultaneous and independent multiple-canister operations. Purge/load module incorporates 2 independent butane loading stations, and system control console can be remotely located. Unit is capable of configurable data and alarm logging, test report generation, and temperature and humidity monitoring.
---
Original Press Release:

SAKOR Technologies, Inc. Introduces ECS 3000(TM) Canister Conditioning System


Powerful and Affordable System Provides Quality Emissions Testing

SAKOR Technologies, Inc., a recognized leader in the development of test instrumentation products for a variety of industries, introduces the powerful and affordable ECS 3000(TM) Canister Conditioning System. The unit meets all EPA/CARB requirements for emission canister conditioning using proven, and safe, butane/nitrogen procedures. The ECS is capable of truly unattended operation, requiring minimal operator interaction while executing simultaneous and independent multiple-canister operations.

The ECS 3000 purge/load module incorporates two independent butane loading stations, is easily relocated, and is ideal for either in-vehicle or benchtop operations. The system control console can be remotely located and is capable of managing two dual-station modules, or up to four independent loading stations. The ECS system has configurable data and alarm logging, test report generation, temperature and humidity monitoring, and a signal interface to facility safety systems. Optional features include temperature/humidity monitoring of purge air, auxiliary data acquisition channels, touch-screen monitor and operator interface, and "second-shift" sequential test programming. A variety of gas flow ranges may be specified to accommodate ORVR, R&D, or other specialized applications.

The system features CanisterVIEW, a proprietary software package developed specifically for the ECS. CanisterVIEW is built upon Windows and LabVIEW and offers a combination of features, familiarity, and flexibility that is common to all of SAKOR's test products. With an easy-to-use graphical interface, CanisterVIEW is designed to implement all EPA and CARB conditioning procedures in a simple straightforward manner, while still permitting convenient, intuitive programming of a wide range of user-defined test sequences.

About SAKOR Technologies, Inc.

SAKOR Technologies, Inc. is a recognized leader in the manufacture and development of reliable and cost-effective automated test instrumentation systems for a wide range of applications. For more than 15 years, the company has been providing quality products and superior customer service to a variety of markets, including automotive, military, aerospace, heavy equipment, small engine, racing and more.

For more information, contact SAKOR at 517/332-7256, via e-mail at: info@SAKOR.com, or visit SAKOR's website at www.sakor.com.

Product or service trademarks mentioned herein are the trademarks of their respective owners

More from Electronic Components & Devices