Canadian Solar to Supply 164 MW of Modules to a Project in Spain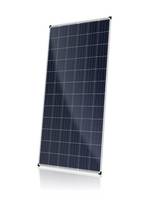 GUELPH, Ontario, Sept. 19, 2018 /PRNewswire/ -- Canadian Solar Inc. (the "Company" or "Canadian Solar") (NASDAQ: CSIQ), one of the world's largest solar power companies, announced today it has been awarded a contract to supply 164 MW of photovoltaic (PV) modules to the 350 MWp Escatrón Solar power project owned by COBRA Group, a subsidiary of ACS Group in Spain.
ACS Group will serve as the EPC provider of the project that was awarded in the recent round of Spain's renewables auction in July 2018. Over 481,900 Canadian Solar's high-efficiency MaxPower modules (CS6U-P 345/350 W) will be installed. This 72-cell polycrystalline module is the best solution for this large-scale project, as it offers industry-leading cell technology and low power loss in cell connections, which are the key factors for the success of the project. Module shipments will commence in September 2018 and the project is expected to reach commercial operation in 2019. 
Dr. Shawn Qu, Chairman and Chief Executive Officer of Canadian Solar commented, "We are delighted to partner with COBRA and supply our high-efficiency modules to this mega project in Spain. It is good to see market demand has started to rebound in Europe and we look forward to delivering more clean and affordable solar energy to the continent."
The Escatrón solar project is one of several large-scale solar projects awarded in Spain's renewable energy auction held in 2018. ACS Group had the largest share of the solar projects awarded with around 1.55 GWp of assigned capacity. The PV projects selected in the contest must start delivering power in 2019.
About Canadian Solar
Founded in 2001 in Canada, Canadian Solar is one of the world's largest and foremost solar power companies. As a leading manufacturer of solar photovoltaic modules and provider of solar energy solutions, Canadian Solar has a geographically diversified pipeline of utility-scale power projects in various stages of development. In the past 17 years, Canadian Solar has successfully delivered over 29 GW of premium quality modules to over 100 countries around the world. Furthermore, Canadian Solar is one of the most bankable companies in the solar industry, having been publicly listed on NASDAQ since 2006. For additional information about the Company, follow Canadian Solar on LinkedIn or visit www.canadiansolar.com.
CONTACT: Mary Ma, Manager, Investor Relations, Canadian Solar Inc., investor@canadiansolar.com; David Pasquale, Global IR Partners, +1-914-337-8801, csiq@globalirpartners.com
More from Electronic Components & Devices