Can-Stack Linear Actuator integrates proximity sensor.
Press Release Summary: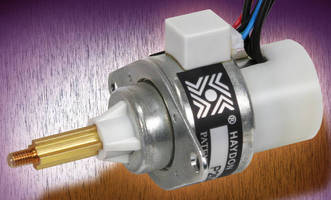 Captive linear actuators in the 1 in. 25000 Series incorporate end-of-stroke proximity sensor that utilizes miniature Hall effect technology in IC package that mounts directly on actuator. Hall effect offers virtually unlimited on/off cycle life due to non-contact operation of switch, which uses rare earth magnet embedded directly on end of internal screw. With current consumption of 10 mA max, proximity switch is 3-wire device and requires 3.8-24 Vdc input.
---
Original Press Release:

Haydon Kerk Motion Solutions, Inc. Introduces the One Inch Can-stack Linear Actuator with Proximity Sensor



Integrated Switch Increases Versatility of the One Inch Can Stack Linear Actuator

Waterbury, CT - Haydon Kerk Motion Solutions Inc., a leading manufacturer of precision linear motion products, offers an integrated end-of-stroke proximity sensor available on the one inch 25000 Series captive linear actuators. The proximity sensor utilizes miniature hall effect technology in an IC package mounted directly on the actuator. The hall effect is an ideal technology with a virtually unlimited on-off cycle life due to the non-contact operation of the switch. The Haydon(TM) can- stack linear actuator with the integrated proximity sensor is perfect for limited space applications.

A highly repeatable on/off signal is accomplished using a rare earth magnet embedded directly on the end of the internal screw. As the screw moves in and out of the actuator, the magnet moves toward and away from the sensor face causing the device to switch states. The proximity sensor is designed to operate in a digital switch mode using an open-collector output through an integrated NPN transistor switch. The proximity switch is a 3 wire device and requires a supply voltage of 3.8 VDC minimum to 24 VDC maximum with a current consumption of 10mA max.

The Haydon 25000 Series is part of the G4 line of high-output can stack linear actuators and are "second to none" in performance when compared to similar sized actuators in the marketplace today. Improvements include optimized stator tooth geometry, high energy neodymium magnets, custom engineered polymers, and larger ball bearings for greater rotor support and axial loading.

For more information on Haydon Kerk's products, please visit www.HaydonKerk.com or call direct at 203-756-7441.

About Haydon Kerk Motion Solutions, Inc.
Haydon Kerk Motion Solutions, Inc. is the joining of two world class brands in the field of linear motion; Haydon Switch and Instrument, Inc. and Kerk Motion Products, Inc. Together, the company now offers a broad range of linear motion products. Recognized as a leading manufacturer of stepper motor based linear actuators, rotary motors, lead screw assemblies, and linear rail and guide systems used in niche market applications, Haydon Kerk Motion Solutions offers a wide range of high performance and precision products. Haydon Kerk Motion Solutions has developed industry-renowned brands built upon its technical innovation, versatility, customization, product durability, and dedicated customer service. For more information, please visit our website at www.HaydonKerk.com.

More from Controls & Controllers