CAN-Based DAQ Module has ruggedized, mobile design.
Press Release Summary: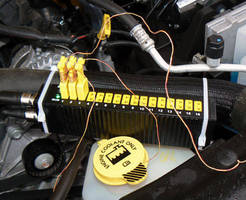 Measuring 35 x 217 x 50 mm, IP67-rated SoMat cDAQ operates over -40 to +125°C range and lets users take measurements directly for K-, J- or T-type thermocouples in difficult test objects. Module accepts power from 8-36 Vdc source and is compatible with any CAN ISO 11898 2.0B-based system or vehicle network. Along with selectable baud rate from 20 kbps to 1 Mbps, product offers digital and analog filtering, selectable sample rates for each channel from 0.1-15 Hz, and ±0.5°C accuracy.
---
Original Press Release:

HBM Launches SoMat cDAQ Rugged, Mobile CAN-Based Data Acquisition Modules



Marlborough, MA - HBM, provider of state-of-the-art transducers, signal conditioning electronics, data acquisition systems and measurement software announced today the release of their new SoMat cDAQ rugged, mobile CAN-based data acquisition modules. The SoMat product family has been a leader in field data acquisition for over 25 years servicing Fortune 500 companies in the automotive, off-highway, aerospace and defense industries.

At only 35mm x 217mm x 50mm, the compact cDAQ modules provide a flexible distributed network of HBM world class signal conditioning in any environment and weather condition. Engineered to operate within severe temperatures ranges of -40 to 125°C with an IP67 protection class rating; the compact cDAQ modules allow users to take measurements directly in the most difficult test objects. These can include engine enclosures, gearboxes, pumps, power generation, and many industrial applications. This reduces installation time, cabling, and test set-up while lowering overall product testing costs.

The flexible cDAQ modules are compatible with any CAN ISO 11898 2.0B-based system or vehicle network and have a selectable baud rate from 20 kbps to 1 Mbps. Connecting multiple modules through the CAN bus allows for nearly unlimited channel counts, covering great distances up to 250M. cDAQ modules are powered from a user-friendly DC power source from 8 to 36 volts. Once power is applied to the first module, it is distributed through the rest of the network.

Although well-matched with any CAN network, cDAQ modules are optimally designed to interface with the HBM SoMat eDAQ or eDAQlite rugged, mobile data acquisition systems.

cDAQ modules are available in 16-channel isolated thermocouple configurations, cDAQ-ITC, for K-, J- or T-type thermocouples. Each channel has individual cold junction compensation fully isolated up to 500 V; with an accuracy of +/-0.5°C. Selectable sample rates are available for each channel from 0.1 to 15 Hz. The cDAQ-ITC also has digital and analog filtering to remove high frequency signal components above 50 Hz and notches at 50 Hz and 60 Hz to prevent aliasing at the power line frequency bands.

With further plans to expand the product line into additional signal conditioning modules, the cDAQ is a must-have tool for anyone acquiring data in harsh environments.

For more information visit http://www.hbm.com/somat.

About HBM
Since 1950, the HBM has built a globally-respected reputation in the test and measurement industry, based on the supply of reliable, precision transducers and measurement solutions across a broad range of industries. As a technology and market leader worldwide, the company today offers products and services across the entire measurement spectrum, from virtual to physical testing. Products comprise sensors, instrumentation and data acquisition systems as well as durability, test and analysis software. HBM's global network of sales companies and representatives comprises 27 subsidiaries and sales offices in Europe, the Americas and Asia, with approximately 1,500 employees. The company is also represented in a further 40 countries.


More from Electronic Components & Devices