Camera Systems help prevent motor vehicle accidents.
Press Release Summary: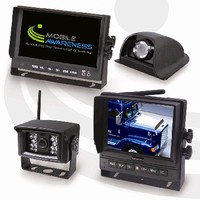 Available in both wired and wireless models, VisionStat(TM) Systems can be configured with up to 4 infrared night vision CCD cameras. Color monitor, measuring 5.6 in., includes control interface embedded into enclosure, built-in audio speaker, turn signal switching, and multiple mounting methods. Systems provide automatic switching of camera views whenever vehicle is in reverse or upon activation of left/right turn signals for side view cameras.
---
Original Press Release:

Mobile Awareness, LLC Releases VisionStat(TM) Wired and Wireless Color Camera Systems for Motor Vehicle Accident Prevention



[CLEVELAND, OH - July 17, 2008] - Mobile Awareness, LLC, a provider of leading-edge transportation safety products, today announced VisionStat(TM), a new series of industrial wired and wireless commercial vehicle camera systems.

Designed for easy installation, VisionStat(TM) camera systems are rugged and cost-effective. Featuring high quality and durability, VisionStat(TM) systems can be configured with up to four (4) infrared night vision CCD cameras. Available in both wired and wireless, all camera types (front, side and rear mounting) are waterproof and produce high resolution images. Advanced features of the 5.6" Color Monitor include a control interface embedded into the monitor enclosure, built-in audio speaker, turn signal switching and multiple mounting methods. Designed with the same form-factor as the wired version, the wireless edition has an embedded 2.4 GHz radio for quality video image transmission.

"Mobile Awareness recognizes that businesses want flexible, effective and affordable camera systems that improve their vehicle safety environments," says Brandon Stotsenburg, Director of Sales & Marketing at Mobile Awareness. "Our VisionStat(TM) color video systems were developed to provide high quality cameras at a price which will allow our customers to outfit their entire fleets for safety while including features such as an auto dimming display and a common mounting footprint for both our wired and wireless systems."

Additional features include the automatic switching of camera views whenever the vehicle is in reverse or via left/right turn signals for side view cameras. Automatically switches and displays the word "Backward" (reversing camera), "Left" or "Right" (side-view cameras) on monitor for enabled camera. Audio enabled so driver can hear around, as well as see blind spot areas

Stotsenburg concludes, "With more of our customers looking to utilize multiple cameras, in locations other than just the rear of the vehicle, an affordable and durable product that would ease the time and cost of installation could provide significant benefit."

About Mobile Awareness

Cleveland, Ohio based Mobile Awareness, LLC(TM) designs and markets leading-edge, affordable transportation safety products. The company provides integrated accident prevention solutions for commercial transportation professionals with its VisionStat(TM) Wired & Wireless Vehicle Camera Systems, TireStat(TM) Tire Pressure Monitoring Systems (TPMS) and SenseStat(TM) Wired & Wireless Obstacle Detection Sensor Systems. For more information, please contact Mobile Awareness, Toll Free: 866-653-5036 or visit www.MobileAwareness.com

Mobile Awareness...Reducing the Total Cost of Safety(TM)

More from Material Handling & Storage