TV, Monitor, and Camera Mounts
Camera Mount attaches anywhere using single suction cup.
Press Release Summary: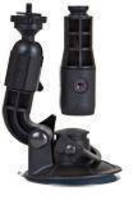 Fat Gecko Mini attaches on almost any surface and features universal ¼ x 20 in. tripod mounting screw to accommodate any standard camera or camcorder weighing up to 4 lb. Removable single suction cup mount features adjustable knuckle and 3 in. extender allowing for 360° tilt, turn, and rotation. Featuring ruggedized lightweight construction, mount is resistant to salt/fresh water, snow, dirt, sand, and mud.
---
Original Press Release:

Delkin Fat Gecko Mini Camera Mount Gets Extreme Results



Poway, Calif., July 30, 2009 - Delkin Devices, Inc. adds a smaller version of their award winning Fat Gecko to its line of camera mounts, the Fat Gecko Mini. The Fat Gecko Mini uses one suction cup to attain a powerful suction that makes video and photography capture possible from almost any smooth surface. With an incredibly strong locking suction and a universal mounting screw the Fat Gecko Mini can be attached almost anywhere and use any standard camera or camcorder. The removable single suction cup mount attaches easily and is equipped with an adjustable knuckle giving the user unlimited potential for video and image capture from all angles and surfaces.

The small footprint of one suction cup allows users to capitalize on the versatility of mounting a camera in tight situations, such as on surfboards, motorcycles, wakeboards, ATVs, helmets, windows and any other smooth non porous surface. The blend of rugged design and ease of use makes Delkin's Fat Gecko Mini camera mount optimal for use in an unlimited number of shooting scenarios. The Fat Gecko Mini suction cup is so strong it can hold a four pound camera, ideal for point and shoot cameras, smaller video cameras, and cameras like the Flip(TM) HD Video camera. The adjustable knuckle design and 3" extender allow for 360° tilt, turn & rotation to capture all of the best filming angles in any activity. Using the universal 1/4 x 20" tripod mounting screw, users can connect virtually any digital still or video camera on the market.

"The versatility of this camera mount has opened up a whole new world of imaging" said Martin Wood, Delkin's CEO. "We have received and overwhelming response from photographers and videographers who are inspired to get a new angle on imaging. Our goal at Delkin has always been to create products that are innovative and useful. The Fat Gecko line is a direct response to the versatile imaging demands of the market."

"Salt water, fresh water, snow, dirt, sand, mud you name it, we've abused these mounts beyond their capacity and they persist on surviving" claims Marketing Manager Tom Robeson, "Currently we have the Fat Gecko on a rally car racing to Tajikistan, on a surfboard in the Pacific, on a rock crawler in the Imperial Dunes, in a airplane over Death Valley, and who knows what the people posting to YouTube have been doing."

The Fat Gecko Mini has been tested with cameras and camcorders weighing up to four pounds, which covers the majority of models on the market for consumer use. Ruggedized lightweight construction ensures that the mount won't crack, bend, rust or break during use, even in the most ambitious shooting conditions. Weighing less than a pound the camera mount is unlikely to interfere with filming and shooting situations.

The Fat Gecko Mini camera mount is available now and can be purchased at an array of digital camera stores and other camera accessory retailers worldwide for $39.99, or at the company's website, www.delkin.com. Delkin has also set up a dedicated site with videos and images, www.fat-gecko.com, where imaging enthusiasts can submit their own footage including off road, motocross, racing, surfing, snowboarding, wakeboarding, and mountain biking. Also available in the Fat Gecko camera mount line is the dual suction cup Fat Gecko for $89.99 and the Fat Gecko Bike Mount for $64.99. Additional accessories include a Garmin(TM) 696 Mount, and an aviation antenna mount.

About Delkin Devices, Inc.

Delkin Devices, Inc. national headquarters is in Poway, California with an International branch in Birmingham, England. Since 1986, Delkin Devices has been inventing, designing, and delivering innovative new products aimed at "Making Photography Better." From consumer based products such as memory cards, readers and batteries to professional products such as the SensorScope System®, ImageRouter® and Archival Gold®, Delkin has delivered premium quality, innovative designs, and an ongoing dedication to superior customer support. Delkin Devices and its products have become industry leaders in both industrial and consumer markets worldwide, and continues to be a leading choice among professional photographers and others passionate about digital photography.


More from Laboratory and Research Supplies and Equipment