Camera Enclosure provides protection in low temperatures.
Press Release Summary: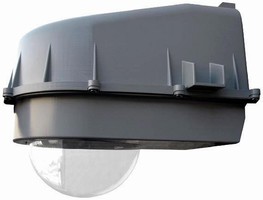 To extend surveillance camera life, D2-XC prevents protected components from freezing in temperatures down to -40°F. Ring of Fire heating system provides constant warm airflow within enclosure, and built-in defrosting removes snow and ice from lower dome to ensure non-obstructed view. Compatible with analog and IP PTZ cameras, enclosure also accommodates routers, cell networks, HDD, UPS, WiMAX, and Mesh hardware. Dotworkz Rapid Link is included for wireless network integration.
---
Original Press Release:

Dotworkz Introduces World's Most Extreme Surveillance Camera Protection System



-- Effective Down to - 40°F, Dotworkz D2-XC Extends Surveillance Camera Life, Reduces Cold Weather Maintenance, Allows Video Surveillance In Areas Previously Not Possible --

SAN DIEGO, CA, November 14, 2007 -- Dotworkz, a worldwide leader in surveillance video monitoring equipment and design, today introduced its revolutionary new D2-XC camera enclosure equipped with the company's patented Ring of Fire heating system.

Able to prevent surveillance cameras from freezing in temperatures down to -40° F, the D2-XC is compatible with 99% of analog and IP PTZ (pan-tilt-zoom) cameras, including models from Pelco, Axis, Sony, Toshiba and Canon.

"Standard enclosures may provide limited protection to cameras in mild climates, but they will ineffective in severe cold, resulting in expensive and potentially dangerous camera malfunctions," explained Will Ferris, President, Dotworkz. "The D2-XC with Ring of Fire is the only enclosure on the market that keeps cameras working in extreme cold. Anything less is a compromise security professionals can not afford to make."

Key to the success of the D2-XC is the Ring of Fire system. It provides constant warm airflow within the enclosure to safeguard the sophisticated electronics found in today's surveillance cameras, especially IP network models. Built-in defrosting removes snow and ice from the D2-XC's lower dome that would otherwise obstruct the camera's view, maintaining the ideal monitoring and recording situation.

The D2-XC's roomy interior easily accomodates routers, cell networks, hard drives, UPS, WiMAX and Mesh hardware. Thanks to this extra space, upgrades in the field are easily completed without additional complex wiring or the purchase of specialized additional enclosures. An included Dotworkz Rapid Link allows integration into 900, 5.8, 2.4 GHz wireless networks worldwide with a range of up to 20 miles.

For more information contact Dotworkz, 3688 Midway Drive, San Diego, California 92110. Or phone (619) 224-LIVE (5483). On the web, www.dotworkz.com.

A video demonstration of the D2-XC can be viewed at: www.dotworkz.com/videos/ cold_climate_application.asp

Watch live video utilizing the D2 enclosure at Park City Mountain: www.parkcitymountain.com/winter/ conditions/mountain_cams

ABOUT DOTWORKZ.COM

Since 1998 Dotworkz has been focused on network based video product designs, introducing the first PTZ controllable streaming network camera on the West Coast. Dotworkz has evolved with the security industry to provide partners worldwide with reliable, state of the art video monitoring hardware and design services. It has introduced many cutting edge products including innovative environmental enclosures and high-performance wireless video systems that have been instrumental in the development of critical video infrastructure for defense, homeland security, transportation and private interests.

Website: www.dotworkz.com

O'Connell Communications
Dan O'Connell
PR Contact
email: dan@oconnellpr.com
phone: 708-482-0212 Dotworkz Systems
Steve Rosenbloom
email stever@dotworkz.com
phone: 619-994-9240

More from Communication Systems & Equipment