Cambrionix ThunderSync16 Port Hub offers 20Gbits/s transmission speed.
Press Release Summary: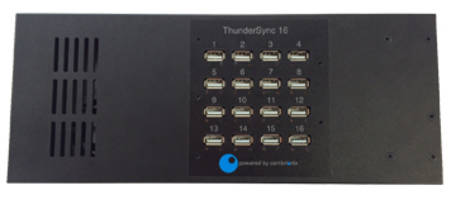 Capable of 5GB file transfer to 16 devices in 4 minutes, Cambrionix ThunderSync16 Port Hub allows charging of multiple devices with 2.4 A simultaneously. Embedded with pre-programmed Very Intelligent Charging protocol and LiveView app, unit is suitable for large scale charging and data transfers in defense, security, software QA, and wearable camera companies. ThunderSync16 helps in charging tablets, mobile phones, e-readers and 3D Glasses.
---
Original Press Release:
Saelig Introduces ThunderSync16 Universal USB Thunderbolt 16 Port Hub
Probably the world's fastest multiport USB Hub with transfer Speeds of up to 20Gbits/s;
Charges and/or syncs up to 16 USB2.0 devices simultaneously at Thunderbolt speeds and at up to 2.4A per port.
Saelig Company Inc. is pleased to introduce the Cambrionix ThunderSync16, which provides 16 x USB2.0 ports and a Thunderbolt host connection, capable of transfer speeds of up to 20Gbits/s to allow large data transfer in the shortest possible time. For data syncing requirements, the data transfer speed offered by Thunderbolt delivers a greatly increased data transfer rate between a host Thunderbolt connection and 16 attached devices than a USB2.0 connection.
The ThunderSync 16 speeds up situations needing large data transfer - such as video file uploading or operating system updates - when the data is required to be loaded in the fastest possible time. It is a finished solution in a compact, durable, easy-to-use form factor.
The ThunderSync 16 supports universal, intelligent charging of USB ports at up to 2.4A simultaneously, and is not limited in the number of USB devices that can be attached due to each port having its own USB host controller. For more than 16 ports, the ThunderSync16 can simply be daisy-chained via the dual Thunderbolt ports. To give an idea of speed: a recent lab test scenario achieved a 10x reduction in transfer time; a 5GB file transfer to 16 devices took only 4 minutes compared to more than 40 minutes for a typical USB transfer scenario. Thunderbolt transfer speeds are around 20Gb/s, while USB2.0 only offers 480Mb/s per port.
The ThunderSync 16 allows the charging of multiple device types simultaneously, irrespective of manufacturer, such as tablets, ChromeBooks, mobile phones, MP3 players, e-readers, 3D Glasses, etc. Whatever device is connected, the pre-programmed Very Intelligent Charging protocol insures the correct charging profile is used for the specific product, maintaining battery performance and extending battery life without risking damage to expensive technology products. The ThunderSync 16 is designed to operate with the complementary Cambrionix LiveView app which provides the user with complete control and monitoring. This supplied software demonstrates the unique benefits of Cambrionix patented technology, and displays the charging status in detail. It shows each port, if a device is attached, and how much energy it is using. Individual ports can be configured for either Sync or Charge mode, or turned off. An API is also provided for software automation scripting, essential for software QA and mobile phone remarketing companies.
The ThunderSync 16 is perfect for use by manufacturers, defense, security, software QA, and wearable camera companies who perform large scale charging and data transfer. It is powered by an internal universal power supply, and is Intel Certified, CE Marked, UL Listed and EMC FCC tested.
The ThunderSync 16 is designed and manufactured by Cambrionix Ltd (Cambridge UK) - leaders in mobile charging technology and connectivity. It is available now from Saelig Company. Inc., Fairport, NY. For detailed specifications, free technical assistance, or additional information, please contact Saelig 1-888-7SAELIG, via email: info@saelig.com, or visit www.saelig.com.
About Saelig Company Inc.
Founded in 1988 in Rochester, New York, Saelig is a North American distributor with a growing reputation for finding and sourcing remarkable, unique test and measurement and control products and components for use in a wide variety of industries. Products lines are continuously added from sources across the globe, and are offered at competitive prices, accompanied by full in-house technical support, exceptional customer service, and fast delivery. For full details of available product lines, please visit www.saelig.com. 
Contact Information
Email: info@saelig.com
Phone / Fax: 585-385-1750 / 585-385-1768