CAM System supports simultaneous 5-axis machining.
Press Release Summary: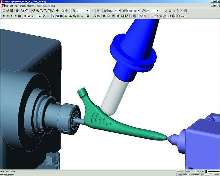 ESPRIT SolidMill FreeForm, suited for 3D surface and solid machining of complex freeform shapes, can generate stock bodies based on previous machining operations and automatically build toolpaths. Stock machining enables use of successively smaller tools to machine between remaining material and finished part. Offerings include 3D Roughing Options, precise control over Z-level limits, and choice of 7 semi-finishing and finishing cycles.
---
Original Press Release:

ESPRIT SolidMill FreeForm Offers CAM System for 3 and 5-axis Complex 3D Surface/Solid Machining


2003 version marks biggest development step in product life, featuring 60+ advancements for 3D alone, including new support of simultaneous 5-axis machining

Camarillo, CA- CAM market leader DP Technology announces the availability of ESPRIT SolidMill FreeForm, a best-in-class CAM system for 3D surface and solid machining of any complex freeform shape. SolidMill FreeForm 2003 marks the biggest development step in the entire product life with new enhancements for greater automation, improved machining strategies, and combinable functionality. This latest product version features over 60 new advancements for 3D applications alone, including new support for simultaneous 5-axis machining.

New Stock Machining Maximizes Productivity and Decreases Machining Time
SolidMill FreeForm now offers functionality to optimize machining between any complex stock body-the material to be removed from the part or casting-and a part. ESPRIT users can input stock bodies as surfaces, solids, STL (stereolithography) models, or any combination of each type. In addition, SolidMill FreeForm generates stock bodies based on previous machining operations. ESPRIT creates a stock body that represents the remaining material from these previous operations and automatically builds toolpath optimizing the machining between the stock body and the part. Stock Machining is available to users from the full suite of SolidMill FreeForm cutting cycles offered in ESPRIT.

Stock machining enables users to significantly increase productivity by decreasing machining time. This new functionality enables ESPRIT to begin machining with a larger roughing tool and then perform secondary operations using successively smaller tools that only machine between the remaining material and the finished part. For example, a cavity with a great deal of left-over material can easily be made into an stock body; then ESPRIT automatically calculates the new roughing tool path with a smaller tool based on the real part stock created by the previous roughing operations.

New 3D Roughing Options Extend Tool Life & Ensure Part Integrity
SolidMill FreeForm now provides users with the capability to select Climb OR Conventional machining options; this extends tool life and protects against tool breakage caused by toggling between these two modes. In addition, the 3D Roughing cycles have been optimized to avoid full width cuts that lead to tool damage.

Part integrity is ensured by precise control over Z-level limits that enable users to enter maximum and minimum Z-values or manually select them on the part itself using a mouse. High Speed Machining capabilities include optimized Z-level machining that results in accurate machining between vertical and horizontal transition areas.

SolidMill FreeForm also offers the flexibility to choose amongst seven different semi-finishing and finishing cycles: Planar, Translation, Normal, Rotation, Offset, Parametric, and Spiral. Further, SolidMill FreeForm's combinable functionality enables users to utilize 3D finishing cycles for roughing and/or pre-finishing. These include: Boundary Contour, Z-Upper/Lower Limits and/or Stock Automation.

New 5-axis Simultaneous Finishing and Projection Finishing Reduce Setups
This latest product version features full support for simultaneous 4- and 5-axis 3D milling of surface, solid, or STL models. New 5-axis cutting cycles include Finishing and 3D Projection Finishing for trimming and finish cutting. Simultaneous 5-axis capabilities also allow for Swarf milling. By specifying the Lead and Lag as well as the Tilt angle of the tool, users have full control the over the tool in 5-axis.

5-axis simultaneous machining action greatly increases accuracy, surface quality and material removal rates by allowing shorter cutting tools to be used. Increased productivity is also achieved because support of 5-axis machining significantly minimizes set-ups for complex parts. Users now have the power to define any axis combination inside ESPRIT-tilting tables, and heads in any combination-employing the machining strategies and cutting techniques of their choice, and immediately verify machined parts inside ESPRIT's 3D Solid Simulator.

Available with the latest version of ESPRIT 2003
The SolidMill FreeForm product is available with DP's latest CAM system, ESPRIT 2003. The culmination of over twenty years of research and development, ESPRIT 2003 is DP's most significant release to date and features four product lines-SolidMill, SolidTurn, SolidMillTurn, and SolidWire-each specifically designed to meet the demands of the production machining environment. ESPRIT 2003 incorporates a collection of new machining cycles for milling and turning including 3D Re-machining, 2D Rest-Machining and Advanced Pocket Finishing, plus hundreds of additional advancements for its SolidMill, SolidTurn, and SolidWire products.

About DP Technology and ESPRIT
DP Technology is a CAM (Computer Aided Manufacturing) software market leader with a mission to provide CNC programmers with the most powerful CAM software ever. The company's vision of technology's potential and passion for excellence is captured in its flagship product ESPRIT.

DP Technology maintains its worldwide headquarters and product development teams in Camarillo, California along with sales and support operations in Europe, Asia, and North and South America. For additional information about DP Technology and ESPRIT, call +1-805-388-6000, email DP at esprit@dptechnology.com, or visit them on the World Wide Web at www.dptechnology.com.

More from Thermal & Heating Equipment