CAM Software targets production machining application needs.
Press Release Summary: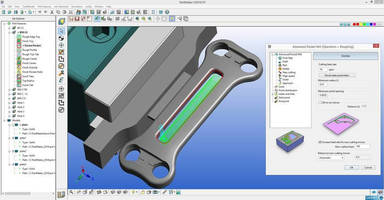 Used for programming CNC mills, lathes, wire EDMs, turn-mill centers, and Swiss-type lathes, PartMaker 2016 is optimized for productivity and usability. Features include 2 ½ axis milling machining strategies, support for import of multiple solid models into one project file, specialist broaching support, and accelerated 2D CAD drafting and tool path selection. Additionally, this Knowledge Based Machining system relieves user from reentering same features information for subsequent parts.
---
Original Press Release:

Game Changing PartMaker 2016 Now Released



Latest PartMaker version, which sets a new standard for power and ease of use in a production machining oriented CAM system, is now available to end users



Fort Washington, PA – Delcam has released the latest version of its PartMaker Software for programming CNC Mills, Lathes, Wire EDMs, Turn-Mill Centers and Swiss-type lathes, PartMaker 2016.  PartMaker 2016 represents a total game changer in the field of CAM software for production machining, offering an unprecedented level of power and ease of use.



Major highlights of PartMaker 2016 include the most powerful 2 ½ axis milling machining strategies found on the CAM market today, support for the import of multiple solid models into a single PartMaker CAM project file, specialist support for broaching, faster 2D CAD drafting and tool path selection and much, much more.



In addition to these technologies, PartMaker 2016 includes over fifty additional new features and enhancements. Comprehensive details on all the new features and functionality in PartMaker can be found at the PartMaker 2016 learning zone at www.delcam.tv/pmk2016/lz/.



"PartMaker 2016 is a truly groundbreaking piece of technology," says PartMaker Inc. President, Hanan Fishman.  "PartMaker 2016 blends machining power and ease of use in a way the market for production oriented CAM software hasn't seen before.  PartMaker 2016 will help both current and prospective PartMaker users program faster and achieve significant productivity gains including marked reductions in machining time for the parts they program."



Headlining PartMaker 2016 is a completely revamped approach to 2 ½ axis milling operations across the entire product range including PartMaker Mill, Turn-Mill and SwissCAM. PartMaker 2016 offers a host of new 2 ½ axis milling options based on parent company Delcam's proprietary milling technology, technology developed and supported by the industry's largest CAM-focused development team. The new milling functionality in PartMaker 2016 is specifically targeted at the needs of production machining applications, allowing users not only to program faster but also machine parts faster than ever before. The new milling toolpath technology included in PartMaker 2016 offers an unprecedented combination of power and ease of use. It allows users to create highly efficient and sophisticated toolpath strategies without even requiring a solid model.



PartMaker 2016 also offers users the ability to import multiple solid models into a single PartMaker CAM project file (*.JOB file). Additionally, this new functionality lets users quickly extract multiple parts from an imported solid assembly. This allows for more flexible programming of complex parts as well as improved ability to manipulate milling work holding in PartMaker's CAM environment.



PartMaker 2016 also includes the CAM software industry's first, dedicated functionality for broaching. Broaching is a deformative manufacturing technique for creating features with sharp corners. While broaching has its roots in old world screw machine technology, it has become a popular machining technique today, particularly in the medical device field in bone screw applications with hex shapes, Torx or Hex lobular and square and spline drives. PartMaker Version 2016 automates the programming of both index and rotary (also known as wobble) broaching operations in an intuitive and visual manner. The software allows broaching operations to be simulated using powerful, 3D simulation.



More on PartMaker

PartMaker is a Knowledge Based Machining system, allowing it to provide a substantial gain in programming efficiency by remembering the tools, material and process information necessary to machine individual part features.  It thus relieves the user from reentering the same features information for subsequent parts.  It also improves productivity by placing the emphasis on tool management functions.



PartMaker pioneered the field of CAM software for Turn-Mills and Swiss-type lathes with its patented Visual Programming Approach for programming multi-axis lathes with live tooling. It assures quicker learning and easier use. It makes an extensive use of pictures to help the user describe tools, part features and machining data.  Synchronization of tools working on multiple spindles is achieved by a few mouse clicks.



PartMaker Inc. is a subsidiary of Delcam, the world's leading developer and supplier of complete CAD/CAM software solutions.  Delcam is a wholly-owned, independently-operated subsidiary of Autodesk. Autodesk helps people imagine, design and create a better world. Everyone - from design professionals, engineers and architects to digital artists, students and hobbyists — can use Autodesk software to unlock their creativity and solve important challenges. In North America PartMaker is sold directly by PartMaker Inc. PartMaker is sold overseas through a network of sales partner offices operating in over 120 countries.



Press Contact:  

PartMaker Inc. 

Hanan Fishman

President

Phone/Fax: (215) 643-5077 ext. 304/(215) 653-0105

More from Printing & Duplicating Equipment