CAM Software offers optimized UI, milling functionality.
Press Release Summary: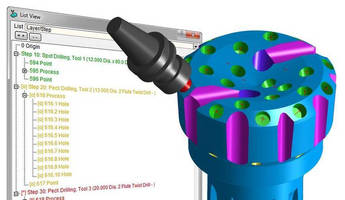 With ACIS® kernel, SmartCAM® v2016 provides toolpath modeling and CNC programming for prismatic production work to complex molds, dies, and prototypes. Knowledge-Base Machining library, by supporting storage and re-use of tooling and operation settings, fosters efficient program creation using proven and repeatable processes. Along with UI optimized for learning and use, solution offers mill roughing functionality with Group Pocket process as well as Part Offset and Morph-path type options.
---
Original Press Release:

SmartCAM v2016 Released



Updated KBM Library Highlighted

User Interface, Milling Improvements Included



SPRINGFIELD, OREGON – SmartCAMcnc has announced the release of SmartCAM® v2016. SmartCAM v2016 delivers a substantially updated Knowledge-Base Machining (KBM) Library, as well as improvements to the user interface and to the core milling functionality.



The SmartCAM Computer-Aided Manufacturing (CAM) software family consists of applications for Computer-Numerical Control (CNC) milling, turning, fabrication and wire EDM.



SmartCAM v2016 builds on the KBM Library functionality introduced in SmartCAM v2015. The improved KBM library supports the storing and re-use of tooling and operation settings, greatly increasing the efficiency with which new programs can be created using proven and repeatable processes. This ensures consistent and accurate CNC methodologies are used throughout the manufacturing facility.



The associativity feature of the KBM Library allows jobs that use library definitions to be quickly updated to the most current definitions.



"SmartCAM has always allowed users to manage their tool and operation parameters in a variety of ways to fit their needs. With the improvements to the v2016 KBM Library, that flexibility is still retained, but with the additional benefit of having all their manufacturing data stored and managed in a single repository." said Doug Oliver, Senior Product Manager at SmartCAMcnc.



"Additionally, the SmartCAM KBM Library can be easily populated from existing jobs with just a few keystrokes." Douglas went on to say. "Data stored in the library can be given a group name and associated to materials and machines allowing the data to be quickly filtered and recalled for reuse."



Several improvements to the SmartCAM v2016 user interface have been included to make SmartCAM even easier and more intuitive to learn and use. The SmartCAM List View, a key component of the interface, now displays model data in a "tree structure" that is expandable and collapsible. CAD and CAM model elements can now be shown using this hierarchical list, which is convenient for viewing as much or as little detail of the model as needed.



A number of improvements have been made to the SmartCAM mill roughing processes. The Group Pocket process now supports separate pocket and island groups, including support for multi-level nested pockets and islands. Also added to Group Pocket, the Part Offset and Morph-path type options can be used to produce smoothed, continuously-tangent toolpaths that are suitable for high speed milling (HSM) techniques.



All SmartCAM v2016 products benefit from an updated ACIS® modeling kernel, and many customer-requested core improvements have been added.



"SmartCAM v2016 has made important advances in several key areas that will help users be more productive. The enhanced KBM library and its integration into the product greatly improves the ease with which proven tooling and operation settings can be reused and managed. Additionally, the new hierarchical list view provides a much richer view of the model, allowing users to instantly understand the organization and structure of the model." said Oliver.



Customers who have purchased any of these optional modules have been notified to the availability to download the new updates. Customers wishing for a free, no-obligation trial are encouraged to contact the company by phone or through the website, www.SmartCAMcnc.com.



About SmartCAM & SmartCAMcnc

The SmartCAM family of computer-aided manufacturing software provides toolpath modeling and CNC programming for prismatic production work to complex molds, dies, and prototypes to an established customer base of over 12,000 companies in 67 countries. SmartCAMcnc provides affordable maintenance contracts, updates, upgrades and technical support for all SmartCAM users, regardless of version. All SmartCAM products include updated data translators and market-leading NC editing software from Predator Software, Inc (www.predator-software.com).



SmartCAMcnc is an Oregon-based company that was established in December 2003 for the purpose of reviving the SmartCAM suite of computer-aided manufacturing (CAM) software for the benefit of its worldwide customer base. Gregg Olson, founder and president of SmartCAMcnc, has been involved in developing CNC programming systems since 1979, with over two decades of experience in various product development capacities for Weber Systems, Point Control, CAMAX, and SDRC.



To monitor further developments please visit www.SmartCAMcnc.com.



Hugh Caldwell

Vice President, Sales & Marketing

SmartCAMcnc

hugh.caldwell@smartcamcnc.com

www.smartcamcnc.com

Tel: 541-344-4563



More from Optics & Photonics