CAM Software combines mill-turn and turning-cutting cycles.
Press Release Summary: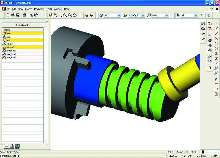 SolidMillTurn CAM includes traditional, advanced, production, freeform, and freeform 5-axis levels for programming multi-function lathes, Swiss-style lathes, and mill-turn machine tools. System provides control over Z, X, C, Y, and B axes, common to machine tools, as well as comprehensive feeds, speeds and material database and ANSI/ISO coded tooling library.
---
Original Press Release:

New ESPRIT SolidMillTurn Product Line on Display at WESTEC Trade Show


Marks Major Milestone in Programming
Multi-Function Lathes and Mill-Turn Machine Tools

CAM system now available for programming any combination of mill-turn (2-5 axis) and turning cutting cycles, utilizing multiple spindles and multiple turrets (up to 22-axis), complete with synchronization, optimization, and simulation

Camarillo, CA- DP Technology announces the introduction of the new ESPRIT SolidMillTurn product line on booth #4028 at the WESTEC 2003 trade show in Los Angeles, California, running from March 24-27. ESPRIT SolidMillTurn is a comprehensive CAM software solution that includes the Traditional, Advanced, Production, FreeForm, and FreeForm 5-axis levels for programming multi-function lathes, Swiss-style lathes and mill-turn machine tools. This new product line features an extensive suite of machining cycles for 2-5 axis milling, including full 3-axis and simultaneous 5-axis 3D multi-surface/solid machining, specifically designed for programming parts for multi-function lathes, mill-turn machines, and Swiss-style lathes. Furthermore, ESPRIT SolidMillTurn provides the freedom to use milling and turning cutting cycles in any combination and provides control over the Z, X, "C", "Y", and "B" axes common to these machine tools.

This new product line also includes a comprehensive feeds, speeds and material database and an ANSI/ISO coded tooling library, providing users with optimum feedrates and tools for machining parts. A host of knowledge base tools enable users to automatically recognize and analyze part features (Feature Recognition), create and store machining processes (Process Manager), and easily synchronize and optimize machining cycles through a combined display of cutting operations and cycle times (Sync List). ESPRIT then dry-runs simulations of the resulting machining processes in dynamic 3-D images that show the whole part on screen, including each spindle, turret, and tooling as defined by the user in ESPRIT's machine setup

Program C-axis rotary milling and Y-axis index milling on lathe
ESPRIT SolidMillTurn is offered in five levels of functionality providing support for the widest variety of parts and machine tools, beginning with a Traditional level that enables users to program rotary milling operations on a lathe. Machining cycles provide Drilling, Contouring, and Pocketing support that handle straight wall, tapered, and through or blind pockets, and holes. Pocketing cycles include subpocketing, concentric (outside-in, inside-out), zigzag, and single direction. SolidMillTurn Traditional also features advanced rotary Contouring cycles including multipass for any continuous G01-G02-G03 cutting sequences.

For off-center,Y-axis milling, the ESPRIT SolidMillTurn "Advanced" features an extensive set of milling cycles including Drilling, Contouring, Pocketing, Facing, and a Spiraling machining cycle for the machining of boss-type parts. ESPRIT takes advantage of the machine tool's canned cycles, thereby shortening the G-code and improving part finishing. External/internal climb and conventional Thread milling cycles support programming of mating parts. At the same time, the product's Re-Machining cycle provides a comparison of the work piece "as machined" versus the original part "as designed", automatically removing the uncut areas of even the most intricate, complex parts.

B-axis Programming Support for Production Machining
ESPRIT SolidMillTurn Production offers the combined capabilities of the Traditional and Advanced products mentioned above with additional programming support for 5-axis index milling. Users can utilize 4th and 5th axis positioning ("C" and "B" axis) in conjunction with any 3-axis Traditional or Advanced machining cycle, such as Contouring with its roughing, slotting, semifinishing, and finishing options. Comprehensive 5-axis support for hole making includes drilling, boring and taping options.

ESPRIT SolidMillTurn Production enables users to program parts demanding compound angles or non-perpendicular multi-axis tool movements, such as those required for tool holders, oil drilling tools, complex valves, and gear products. For example, when machining a valve, ESPRIT SolidMillTurn Production provides users with the flexibility to program a Contouring cycle to mill a flat or shoulder on the part at a compound angle and then drill holes on that shoulder.

ZXY 3-axis and ZXYCB 5-axis for Advanced 3D
The ESPRIT SolidMillTurn FreeForm features full ZXY 3-axis 3D milling to meet 3D surface and solid machining needs. The FreeForm 3D Roughing cycle performs zigzag and offset rough machining on complex 3D freeform shapes and is optimized to machine from any shaped stock material. The FreeForm product provides users with the flexibility to choose amongst seven different semi-finishing and finishing cycles: Planar, Translation, Normal, Rotation, Offset, Parametric, and Spiral. High Speed Machining and G-code optimization are available for every machining cycle, including Z-level machining for near vertical and horizontal areas and universal post processing for supporting virtually all NC controls.

The ESPRIT SolidMillTurn FreeForm 5-axis adds simultaneous 5-axis ZXYCB 3D machining capability to the FreeForm machining cycles. Users can apply the option of local or global coordinate systems to machine any face of a part using any SolidMillTurn machining cycle. The ESPRIT SolidMillTurn also features 5-axis simultaneous 3D cutting cycles: 3D Finishing and 3D Projection Finishing for trimming and finish cutting.

Available with the latest version of ESPRIT, 2003
The SolidMillTurn product is available with DP's latest CAM release, ESPRIT 2003. The culmination of over twenty years of research and development, ESPRIT 2003 is DP's most significant release to date and features four product linesSolidMill, SolidTurn, SolidMillTurn, and SolidWireeach specifically designed to meet the demands of the production machining environment. ESPRIT 2003 incorporates a collection of new machining cycles for milling and turning including 3D Re-machining, 2D Rest-Machining and Advanced Pocket Finishing, plus 100's of additional advancements for its SolidMill, SolidTurn, and SolidWire products.

About DP Technology and ESPRIT
DP Technology is a CAM (Computer Aided Manufacturing) software market leader with a mission to provide CNC programmers with the most powerful CAM software ever. The company's vision of technology's potential and passion for excellence is captured in its flagship product ESPRIT.

DP Technology maintains it's worldwide headquarters and product development teams in Camarillo, California along with sales and support operations in Europe, Asia, and North and South America. For additional information about DP Technology and ESPRIT, call +1-805-388-6000, email DP at esprit@dptechnology.com, or visit them on the World Wide Web at www.dptechnology.com.