Cam Latches include L/T-handle and flush wing knob designs.
Press Release Summary: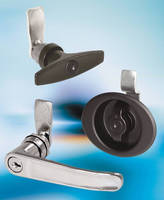 Installed in .04-.24 in. thick panels, Southco® E5 Industrial Series latches are available in L- and T-handle designs with single-hole installation secured by mounting nut threaded to back of latch body. Flush wing knob latches feature oval faceplate and recessed cup to hold wing knob actuator mechanism beneath surface of door panel. With built-in threaded studs, they can mount to back of 0.12 in. thick panels. All have modular E5 latch format and are available in 3 configurations.
---
Original Press Release:

Enhanced Cam Latch Line Expands Options for Actuation and Keylocking Flexibility



Concordville, PA, December 3, 2008 - The recently expanded line of Southco® E5 Industrial Series cam latches offers three additional choices for better user interface with pleasing aesthetics and key locking versatility, in the form of integrated L-handle, T-handle, and flush wing knob designs. The modular E5 latch format, with multiple interchangeable cams to satisfy grip dimension requirements from 4 mm to 42 mm (0.16 of an inch to 1.65 inches), provides cost-effective design and purchasing solutions for basic latching needs beyond traditional industrial use-such as electrical enclosures, transportation equipment, recreational vehicles, office furniture, HVAC and vending applications.

The stylish L-handle and T-handle designs-available in both bright chrome and black powder-coated standard finishes-deliver ample, ergonomic handholds for easy user grasp and operation. Both offer easy single-hole installation secured by a single mounting nut threaded onto the back of the latch body, for low installed-cost in panels from 1 to 6 mm thick (.04 of an inch to .24 of an inch). A hooked cam is also available to suit different frame configurations.

The flush wing knob latch-available in a standard black powder-coated finish-features an aesthetically pleasing oval faceplate with a recessed cup to hold the wing knob actuator mechanism beneath the surface level of the door panel. Built-in threaded studs enable the entire housing to mount from the back of door panels up to 3.2 mm (0.12 of an inch) thick, leaving only the virtually flush faceplate exposed on the surface of the door.

All three of the new actuation handles provide choices of non-locking, standard key-code and user-assigned key-code configurations for more flexible access control management, and feature overmolded keys for a comfortable, sure grip. All three also offer adapters for optional multi-point latching to improve security and reduce rattle in applications with larger door spans.

For more information about E5 Cam Latch options, visit www.southco.com, e-mail the 24/7 customer service department at info@southco.com, call 610-459-4000; or fax to 610-459-4012.

Southco is a leading global provider of engineered access solutions, including latches, locks, captive fasteners, hinges, handles, and other accessories for applications in the marine, networking, telecommunications, computer, automotive, aerospace, mass transit, off-highway/construction, RV/caravan, industrial machinery and HVAC industries.

Southco is strongly focused on customized engineering solutions and global support for its key customers. The company aspires to be a virtual engineering center for its customers' engineered-access solutions and is committed to providing outstanding quality and overall satisfaction. Southco's promise to its customers is to connect, create and innovate to provide the best solution for every access engineering problem.

SOUTHCO CONTACT:

Kim Tuller

610-361-6512

ktuller@southco.com

More from Adhesives & Sealants