Calibration Systems suit testing facilities and laboratories.
Press Release Summary: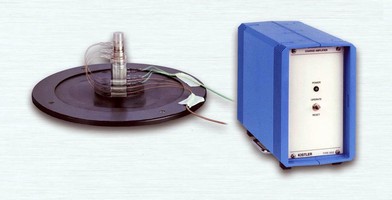 Accelerometer calibration systems line includes 8802A Laboratory Calibration Reference Standard System and 8804A Laboratory Vibration Calibration System and features 5022 frequency compensated charge amplifier. Systems exhibit repeatability from 10-10,000 Hz over wide amplitude range, and are calibrated for sensitivity of 10 mV/g that is adjustable to tolerance of ±0.1%.
---
Original Press Release:

Accelerometer Calibrator in Two Versions



Amherst, NY (March 21, 2006) - Two new accelerometer calibration systems from Kistler Instrument provide on site calibration convenience for testing facilities and small laboratories. The 8002A Laboratory Calibration Reference Standard System consists of the new 5022 frequency compensated charge amplifier and 8002K reference quartz accelerometer and is chiefly used as a primary lab standard to maintain traceability of a working calibration standard, such as our 8804A Vibration Calibration System.

The 8804A Laboratory Vibration Calibration System consists of the new 5022 frequency compensated charge amplifier and 8076K reference quartz accelerometer and is used as a working standard for back-to-back calibration of accelerometers.

Both systems exhibit remarkable stability and repeatability from 10 to 10000 Hz over a wide amplitude range. The 8802A and 8804A systems are calibrated for a sensitivity of 10 mV/g that is adjustable to a tolerance of ±0.1%. The system bandwidth is adjustable to partially correct the resonant peak of the accelerometer, securing more useable bandwidth from the system.

The 5022 charge amplifier allows for factory precision trimming of sensitivity when mated with 8002K or 8076K accelerometer. The factory adjustable notch filter provides attenuation to coincide with the mechanical resonance frequency of the particular sensor mated with the amplifier to allow for an extra decade of usable bandwidth. The charge amplifier has a front panel reset/operate switch and an LED indicator for power confirmation.

The 8002K and 8076K accelerometers provide a nominal 1±0.1 pC/g sensitivity. When used with the 5022 charge amplifier the system has an acceleration range of 250g.

Kistler is a worldwide supplier of precision instrumenta¬tion for the measurement of pressure, force and acceleration serving the R&D, Industrial and OEM Communities.

CONTACT
Don Beehler
Marketing Specialist
Phone: (716) 691-5100
Fax: (716) 691-5226
Email: don.beehler@kistler.com

More from Software