Calibration Pumps include low- and high-pressure models.
Press Release Summary: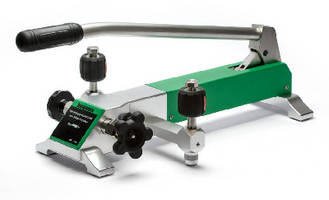 Designed for table-top use, hand-operated Model PGPH generates pressure up to 2,000 psi in less than 1 min and can also generate vacuum. Pneumatic unit features adjustment control for fine-tuning of pressure, and hand-tightened connectors that eliminate need for tools. Also using air as its pressure medium, hand-operated Model PGL offers pressure range of ±160 iwc with attunement to 0.1 Pa. Isothermal bellows chamber minimizes environmental temperature changes during calibration process.
---
Original Press Release:

Beamex Introduces New Calibration Pumps



Beamex has expanded its pump range with two new pumps: PGL and PGPH. The PGL pump is a low-pressure calibration pump with excellent possibilities for very fine adjustments. The pump is ideal in industries where accurate, low-pressure generation is needed, such as the pharmaceutical industry. The PGHP pump is a pneumatic, high-pressure generator with air as the pressure medium. This pump is a practical, high-quality solution in calibrations where using liquids is forbidden, such as the gas industry.



The new pumps complete Beamex's range of pressure generation equipment. "Beamex is now able to supply a complete range of user-friendly calibration pumps for a broader range of pressure calibration applications," Beamex's Product Manager, Heikki Laurila, describes.



The PGPH is a hand-operated, pneumatic, (uses air as the pressure medium) high-pressure calibration pump for table-top use. The pump is extremely efficient in generating pressure up to 140 bar (2,000 psi) quickly and effortlessly. It takes far less than a minute to reach the maximum pressure. The PGPH is also able to generate vacuum. It is equipped with a fine-adjustment control providing excellent fine-tuning of generated pressure, and two hand-tightened connectors allowing fast and easy connections without the need for any tools.



The PGL is a hand-operated calibration pump for low pressure using air as its pressure medium. The pressure range of the PGL is ±400 mbar / ±160 iwc. The pump is equipped with an isothermal bellows chamber for reducing possible environmental temperature changes during the calibration process. With the screw-operated volume control and fine adjustment, an extremely accurate and stable pressure adjustment is possible, enabling attunement to 0.1 Pa.



BEAMEX is a leading, worldwide provider of calibration solutions that meet even the most demanding requirements of process instrumentation. Beamex offers a comprehensive range of products and services — from portable calibrators to workstations, calibration accessories, calibration software, industry-specific solutions and professional services. Through Beamex's subsidiaries, branch offices and an extensive network of independent distributors, their products and services are available in more than 80 countries. Beamex has more than 10,000 customers worldwide.



For further information, please contact:

Beamex US Headquarters:

Katie Turner - Marketing Manager

Beamex, Inc.

2152 Northwest Parkway

Suite A

Marietta, GA 30067

Phone: 770-951-1927

Fax: 770-951-1928

E-mail: katie.turner@beamex.com

Internet: www.beamex.com

More from Food Processing & Preparation