Calibration Instrument fosters EPA Method 334.0 compliance.
Press Release Summary: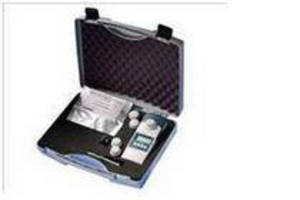 Used for calibrating on-line chlorine analyzers in compliance with US EPA Method 334.0, P334 Colorimeter comes with step-by-step procedure guide, NIST traceable standards, and certificate of calibration from factory. Included primary chlorine standards kit consists of constant concentration liquid standards contained in double-ended ampules and one bottle of pre-measured double distilled water. Ergonomic and waterproof, handheld instrument also incorporates backlit display.
---
Original Press Release:

Siemens Introduces the P334 Colorimeter Chlorine Analyzer Calibration Instrument : New Product for the U.S. Market, to Help Users Comply with EPA Method 334.0



The new P334 Colorimeter instrument provides a simple, reliable solution for calibrating on-line chlorine analyzers in compliance with U.S. EPA Method 334.0, published in November 2009. The hand-held Colorimeter includes: an easy to follow step-by-step procedure guide; the easiest to use National Institute of Standards and Technology (NIST) traceable standards; and a certificate of calibration from the factory so the instrument can be used immediately. Applicable to the U.S. market only, the Colorimeter is the latest addition to Siemens' disinfection, analyzer and controller portfolio.

The P334 Colorimeter: a complete solution to calibrate on-line analyzers, meeting the U.S. EPA Method 334.0.

The Colorimeter set contains primary chlorine standards kit that consists of constant concentration liquid standards contained in double-ended ampoules and a bottle of pre-measured double distilled water. The primary standards do not require any dilution calculations, additional glassware, extra distilled water or special procedures. This reduces the time and complexity of preparing a primary chlorine standard, which helps ensure quick and accurate results. The ergonomic and waterproof design makes the Colorimeter ideal for portable or benchtop use. The extra large backlit display is easy to read in all light conditions, outdoors or indoors, ensuring an accurate recording of the readings. A step-by-step procedure manual for using the on-line analyzer and Colorimeter has been written specifically to meet the objectives of the regulations. This manual is designed to ensure that the proper procedures are being followed and to prevent unnecessary work. It is also designed to instill confidence in the Methods as they pertain to the operations at the individual utility. Further information about solutions for water treatment is available at www.siemens.com/water For more information on the U.S. EPA Method 334.0, please refer to the white paper, The Analytical Side to Compliance with Drinking Water Regulations, at: www.water.siemens.com/SiteCollectionDocuments/Product_Lines/Wallace_and_Tiernan_Products/Brochures/Siemens_White_Paper_Analytical_Side_to_Compliance.pdf A photo supplements this press release. Please see: http://www.industry.siemens.com/data/presse/pics/IIS201006469.jpg

The Siemens Industry Sector (Erlangen, Germany) is the worldwide leading supplier of environmentally friendly production, transportation, building and lighting technologies. With integrated automation technologies and comprehensive industry-specific solutions, Siemens increases the productivity, efficiency and flexibility of its customers in the fields of industry and infrastructure. The Sector consists of six divisions: Building Technologies, Drive Technologies, Industry Automation, Industry Solutions, Mobility und Osram. With around 207,000 employees worldwide (September 30), Siemens Industry achieved in fiscal year 2009 total sales of approximately 35 billion. www.siemens.com/industry The Siemens Industry Solutions Division (Erlangen, Germany) is one of the world's leading solution and service providers for industrial and infrastructure facilities comprising the business activities of Siemens VAI Metals Technologies, Water Technologies and Industrial Technologies. Activities include engineering and installation, operation and service for the entire life cycle. A wide-ranging portfolio of environmental solutions helps industrial companies to use energy, water and equipment efficiently, reduce emissions and comply with environmental guidelines. With around 31,000 employees worldwide (September 30), Siemens Industry Solutions posted sales of 6.8 billion in fiscal year 2009. Further information and downloads at: www.siemens.com/industry-solutions

More from Packaging Products & Equipment