Calibration Furnace tests thermocouples and RTD sensors.
Press Release Summary: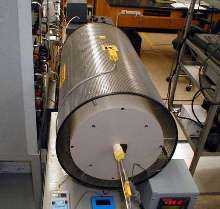 Suitable for performing long-term drift and temperature cycle tests, Model FUR-1200 calibration furnace performs standard calibrations between 300-1,150°C. Internal Inconel equalization block, which can hold up to 20 sensors, produces stable and uniform temperature field, and 5 mm thick ceramic protective liner distributes element energy evenly. Control system utilizes 2 alarm settings designed to protect both reference sensor and unit being tested.
---
Original Press Release:

FUR-1200 Calibration Furnace


The EDL Calibration Furnace model FUR-1200 is designed for the testing and calibration of both thermocouples and RTD sensors. Standard calibrations may be performed between 300°C and 1150°C. It is also ideal for performing high-accuracy calibrations, as well as both long-term drift tests and temperature cycle tests. Unique design features in the furnace make thermocouple calibrations more efficient and accurate. The internal Inconel equalization block produces a highly stable and uniform temperature field. The block can hold up to 20 sensors, dependening upon whether the block is a standard or custom size.

The inside of the furnace contains a 5mm thick ceramic protective liner that distributes the element energy evenly, contributing to a more uniform temperature field. At higher temperatures, unlike quartz, the ceramic is a more efficient impediment against the diffusion of metallic ions through its wall, which can lead to calibration shifts.

To reduce any noise that may be inductively-coupled from the element winding to the unit being tested, a grounded Inconel shield has been added to the furnace. This shield or cage reduces the amount of VRMS noise that the measuring instrument will see at the input.

Two safety mechanisms ensure continuous and safe operation. The control system utilizes two alarm settings designed to protect the reference sensor and unit being tested. The first is user-controlled and it is recommended to be set slightly above the furnace set-point. The second alarm setting is a maximum shutdown point and is factory set to the maximum operating temperature of the furnace. This safety is relay-interfaced to the element power and will shutdown all power to the elements.

Cycle Test Option

Many sensors are subject to extreme temperature variations during their use in various environments, often causing a shift in their calibration curve. Therefore many industrial laboratories have a need to assess the effects of temperature on their sensors as a function of time. The FUR-1200 is available with a temperature cycling option that allows the testing of sensors with both time and dwell cycles. Cycling is accomplished by pneumatic-controlled movement of the sensors within the inner and outer limits of the hot zone. Up to 5 sensors may be held by an optional cylinder that may be mounted on the front of the furnace, with a 12in. travel range. The process is managed by the furnace micro-controller that may be interfaced to an external computer for profile programming. This type of testing allows the user to see initial shifts that may occur due to thermal cycling. Forcing the initial calibration shift prior to installation of a sensor is beneficial in terms of both economics and safety control.

o Excellent for Standard and High-accuracy Calibration of Both Thermocouples and RTDs

o Internal Inconel Equalization Block Produces Highly Stable and Uniform Temperature Field

o Inconel Shield Reduces Noise

o Two Alarm Settings for Safety

o Cycle Test Option

More from Communication Systems & Equipment