DC to DC Power Supplies (Converters)
Calex Introduces 3.5 kW Bi-Directional DC/DC Converter with a CAN 2.0b Interface
Press Release Summary: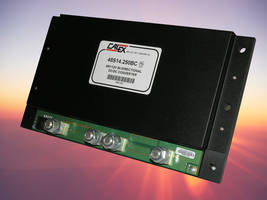 The 48S14.250BC Bi-Directional DC/DC Converter is offered in 9.45 x 5.366 x 0.725 in. mechanically enclosed package. The unit is suitable for in-vehicle power distribution in 48V/12V battery configurations. It utilizes CAN-transceiver for communicating with microcontroller. The converter features a disconnect switch, reverse voltage protection and short circuit protection. It can be operated in -40˚C to 100˚C temperature and the base plate of the unit allows easy mounting to a chill plate or chassis.
---
Original Press Release:
Compact 3500W Bi-Directional DC/DC for Mild and Micro Hybrid Automotive Applications
Calex Mfg. Co., Inc. announces the addition of the 3.5 kW Bi-Directional DC/DC converter to the Calex product offering. The 48S14.250BC Bi-Directional non-isolated DC/DC converter provides a complete solution for in-vehicle power distribution in 48V/12V battery configurations for a variety of applications including micro and mild hybrid automotive systems. The BiDirectional DC/DC converter charges a low side (12V) battery during normal operation (buck mode) and charges or assists the high voltage (48V) battery in emergency situations (boost mode). It is packaged in an unprecedented low profile 9.45" x 5.366" x 0.725" mechanically enclosed package weighing only 2.86 lbs.
The 48S14.250BC uses CAN 2.0b interface for complete control of the converter as well as monitoring LS current and internal temperature of the converter. It uses a high speed CAN-Transceiver for communication with the microcontroller. The converter's high efficiency, up to 97%, and high power density are accomplished through the use of high-efficiency synchronous rectification technology, advanced electronic circuitry, and leading edge thermal design. This design approach results in a highly reliable and ruggedized product. The 48S14.250BC includes a disconnect switch based on a back to-back MOSFET configuration for the low side (12V battery). The converter has reverse voltage protection, short circuit protection as well as low standby current for the low side. The packaging makes the unit ideal for harsh shock and vibration requirements as well as easy integration into a battery pack. The baseplate of the enclosure allows for ease of mounting to a chill plate or chassis. The operational baseplate temperature range of the 48S14.250BC is -40˚C to 100˚C
The 48S14.250BC converter is backed by Calex's Five Year Warranty. For more information on the 48S14.250BC, view the data sheet at www.calex.com/pdf/bc.pdf or you can contact Calex at 800-452-3355/925-687-4411, www.calex.com or Fax 925-687-3333. Contact the Factory for pricing and delivery information. Calex's corporate headquarters are located at 2401 Stanwell Drive, Concord, California, 94517 USA. All Calex products are designed and built in the United States.
FROM:
CALEX Mfg. Co., Inc.
2401 Stanwell Drive
Concord, Ca 94520-4841 
Contact: Mike McNally (mmcnally@calex.com) Phone: (925) 687-4411
More from Electronic Components & Devices