Calcium Fluoride PCX Lenses withstand harsh environments.
Press Release Summary: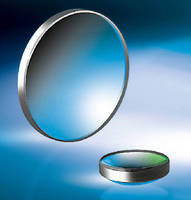 With low Index of Refraction, high laser damage threshold, and low axial and radial-stress birefringence, TECHSPEC® Calcium Fluoride Plano-Convex Lenses are suited for use with Excimer lasers or for integration into IR systems. RoHS-compliant products are manufactured using vacuum grade UV substrate, offering greater than 90% transmission from 193 nm to 7 µm. Available in 12.5, 25, and 50 mm diameters, uncoated lenses feature positive focal length, ranging from 18–150 mm.
---
Original Press Release:

TECHSPEC Calcium Fluoride Plano-Convex (PCX) Lenses Ideal for Use in Harsh Environments



Calcium Fluoride features low solubility and superior hardness



Barrington, N.J. - Edmund Optics® (EO), the premier provider of optical components, introduces TECHSPEC® Calcium Fluoride Plano-Convex (PCX) Lenses. These versatile lenses are excellent for use in demanding applications that require superior performance from the ultraviolet (UV) through the mid-wave infrared (MWIR) spectra.



Featuring a low Index of Refraction, high laser damage threshold and low axial and radial-stress birefringence makes the TECHSPEC Calcium Fluoride Plano-Convex (PCX) Lenses an outstanding choice for use with Excimer lasers or for integration into IR systems. The lenses, manufactured using a vacuum grade UV substrate, offer greater than 90% transmission from 193 nm to 7 μm. Calcium Fluoride is characterized by its low solubility and offers superior hardness in comparison to other fluoride-based substrates. This makes TECHSPEC Calcium Fluoride Plano-Convex (PCX) Lenses able to withstand harsh environments and exposure to the elements.



Multiple Size and Focal Length Options

TECHSPEC Calcium Fluoride Plano-Convex (PCX) Lenses are available in 12.5 mm, 25 mm and 50 mm diameters. These uncoated lenses feature a positive focal length, ranging from 18 mm to 150 mm, and have one flat and one convex surface. TECHSPEC Calcium Fluoride Plano-Convex (PCX) Lenses are RoHS compliant and are in-stock and available for immediate delivery for fast turnaround and excellent value.



About EO:

Edmund Optics (EO) is a leading producer of optics, imaging, and photonics technology for R&D, electronics, semiconductor, pharmaceutical, biomedical, and military markets around the globe. EO is the world's largest supplier of off-the-shelf optical components. Customers can purchase items by contacting EO at 1-800-363-1992, via the catalog, or via the website at www.edmundoptics.com



Company Contact:

Kirsten Bjork-Jones

Director Global Marketing Communications

Edmund Optics®, Inc.

101 East Gloucester Pike

Barrington, NJ 08007 U.S.A.

Phone: 1-800-363-1992

Fax: 1-856-573-6295

email: kbjork-jones@edmundoptics.com



European Contact:

Agnes Huebscher

Director European Marketing

Edmund Optics

Zur Giesserei 8

76227 Karlsruhe, Germany

Tel.:   +49 (0)721-62737-38

Fax:   +49 (0) 721 6273750

E-Mail:   AHuebscher@edmundoptics.de

More from Test & Measurement