Cage System Components Kit helps build optomechanical systems.
Press Release Summary: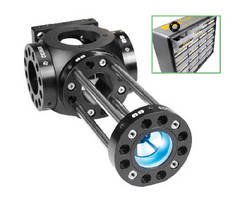 Suited for researchers, engineers, or educators, and for demonstration, experimentation, or prototyping purposes, TECHSPEC® Cage System Components Kit contains plates, rods, and mounts as well as accessories such as screws and tools required to build basic optomechanical systems. Kit provides mounting options for 12.5 mm and 25 mm optical components as well as 2 adapter plates to interface between TECHSPEC Optical Cage System and other cage systems.
---
Original Press Release:

TECHSPEC® Cage System Components Kit



Build optomechanical systems with ease



Barrington, N.J. – Edmund Optics® (EO), the premier provider of optical components, introduces the new TECHSPEC® Cage System Components Kit. These versatile kits contain all of the necessary parts to construct basic optomechanical systems. The TECHSPEC Cage System Components Kit is ideally suited for researchers, engineers or educators, and for demonstration, experimentation or prototyping purposes.



The TECHSPEC Cage System Components Kit contains an assortment of TECHSPEC Optical Cage System components - plates, rods, mounts, as well as accessories like screws and tools that are needed to build basic optomechanical systems. Mounting options for 12.5 mm and 25 mm optical components are included. Two adapter plates are also included to easily interface between the TECHSPEC Optical Cage System and other cage systems allowing users to maximize their optomechanical investment. An optical component storage cabinet is included with the kit, which provides room for expansion.



Parts list and construction videos available online



A free, user-friendly, online guide, "Getting Started Using the Cage System Components Kit" includes a complete parts list with photographs, usage and descriptions. It also has detailed animated construction videos for creating assemblies such as cubes and angle bracket joints. The guide also provides Application Examples for more complicated projects such as a Michelson Interferometer or a Fluorescence Microscope and details the additional components that would be required to complete such projects.



Use as a building block for more complicated designs



TECHSPEC Cage System Components Kit offers a single-purchase solution to creating simple cage system setups or for use as a building block for more complicated designs. The kits are in-stock and available for immediate delivery for fast turnaround and excellent value.



About EO:

Edmund Optics® (EO) is a leading producer of optics, imaging, and photonics technology for R&D, electronics, semiconductor, pharmaceutical, biomedical, and military markets around the globe. EO is the world's largest supplier of off-the-shelf optical components. Customers can purchase items by contacting EO at 1-800-363-1992, via the catalog, or via the website at www.edmundoptics.com



Company Contact:

Kirsten Bjork-Jones

Director Global Marketing Communications

Edmund Optics®, Inc.

101 East Gloucester Pike

Barrington, NJ 08007 U.S.A.

Phone: 1-800-363-1992

Fax: 1-856-573-6295

email: kbjork-jones@edmundoptics.com



European Contact:

Agnes Huebscher

Director European Marketing

Edmund Optics

Zur Giesserei 8

76227 Karlsruhe, Germany

Tel.:   +49 (0)721-62737-38

Fax:   +49 (0) 721 6273750

E-Mail:   AHuebscher@edmundoptics.de

More from Electrical Equipment & Systems