CadMouse Wireless Mouse features an optical sensor with 7,200 dpi resolution.
Press Release Summary: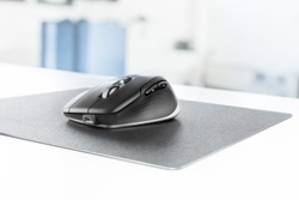 CadMouse Wireless Mouse is designed for CAD users with features dedicated middle mouse button, smart mouse wheel. Delivering an adaptive polling rate to up to 1000 Hz, unit comes with SmartScroll function that offers precise, click-to-zooming and gesture button for direct accessing to up to 8 favorite commands. Unit comes with rechargeable li-ion battery with connectivity options such as 3Dconnexion Universal Receiver, Bluetooth and USB.
---
Original Press Release:
CadMouse Wireless is the New Standard for Mobile Workstations
The world's first desktop mouse for CAD users as a compact, wireless version.
3Dconnexion, the provider of 2D and 3D devices extended its product range with the CadMouse Wireless. The high-performance mouse is the wireless equivalent to the CadMouse, the world's first desktop mouse for professional CAD users. Its compact ergonomic design supports engineers and designers in their daily work. CAD specific features like the dedicated middle mouse button, the smart mouse wheel or the optical sensor with a resolution of 7,200 dpi speak for themselves: CadMouse Wireless is not just another mouse.
More precision thanks to CAD specific features
The SmartScroll function recognizes the actual application environment and automatically delivers the right kind of scrolling: precise, click-to-click zooming for CAD applications or speed scrolling with inertia effects in browsers and documents. Thanks to the QuickZoom function, users can zoom in and out of the center of details with a single click of a thumb button. To fine tune the zoom level, users simply keep pressing the button until the desired view is reached.
The gesture button opens an application or environment-specific radial menu, which gives direct access to up to 8 favourite commands. These are represented by icons and can be individually defined by the user for each application or environment. The mouse automatically recognizes the currently opened environment and shows the assigned commands which can simply be activated with a mouse gesture. Either by swiping the cursor over the command or clicking on it directly.
Ergonomic and efficient
The CadMouse Wireless is equipped with a high precision energy saving optical sensor with a resolution of 7,200 dpi and an adaptive polling rate to up to 1000 Hz (via USB connection). Because of their particular shape and material the specially designed PTFE-feet, developed by 3Dconnexion, ensure an almost perfect equilibrium between static and kinetic friction that allows smooth and fluid mouse movements. Their special shape also helps to damp vibrations.
Three connectivity options for comfortable working and loading
Even with the high performance of the CadMouse Wireless, one full charge of the battery lasts, on average use of 40 hours per week, for up to two months. The basis for this are the rechargeable li-ion battery and the energy saving optical sensor. In combination with the variable connectivity options, users enjoy maximum flexibility. With the 3Dconnexion Universal Receiver using 2.4GHz wireless technology and Bluetooth users can work wirelessly, via USB-cable they can charge the battery even while working. The CadMouse Wireless is delivered with a compact and robust carry case so that it can easily be taken to every job site.
A single driver for all 3Dconnexion products
Like every 3Dconnexion product the CadMouse Wireless is also configured with the all-in-one driver 3DxWare 10. Its simple yet powerful user interface allows users to customize and optimize their mouse to their work style ̶ for each separate application and environment.
Availability and price
The CadMouse Wireless will be available on the 19th of September at a price of $99 USD. It supports the following operating systems: Microsoft ® Windows from version 7 and macOS from version 10.10. For more information please visit https://www.3dconnexion.com/cadmouse_wireless/en/
About 3Dconnexion
3Dconnexion designs powerful, ergonomic hardware and smart, easy-to-use software that combine seamlessly to make working in CAD fast, comfortable and fun. From our SpaceMouse product line of 3D mice to the CadMouse product line, 3Dconnexion products provide a superior way for CAD professionals to interact with and experience the digital world. 3Dconnexion's European headquarters are in Munich, Germany with offices worldwide.
US Press contact
Tony Lonergan
3Dconnexion
330 Bear Hill Road - Suite 304
Waltham, MA 02451
Phone: +1 (781) 890-8455
E-Mail: tony_lonergan@3dconnexion.com
More from Material Processing