CAD Software supports point cloud files.
Press Release Summary: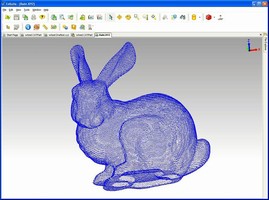 EnSuite v2 can be used to import point cloud files in .xyz and .csv files that are typically produced on coordinate measuring machine, laser scanner, or other inspection equipment. Allowing imported point clouds to be graphically compared against CAD models, software produces color error map of point cloud vs. CAD model by displaying differences between both in range of colors. Program is useful to quality assurance engineers in manufacturing QA and CAD QA scenarios.
---
Original Press Release:

CCE's EnSuite Delivers Support for Point Cloud Files



(May 6, 2008) - CCE, a leading provider of CAD/CAM data translation and viewer products, has announced that EnSuite Version 2 - its multi-CAD viewing, translation and productivity software - has been upgraded to support point cloud files. EnSuite Version 2 can be used to import point cloud files in .xyz and .csv files that are typically produced on a coordinate measuring machine (CMM), laser scanner, or other inspection equipment.

Point clouds imported into EnSuite can be graphically compared against a CAD model. EnSuite produces a color error map of the point cloud vs. the CAD model by displaying the differences between the two in a range of colors. Color-coding greatly reduces the time required to identify and understand differences and evaluate their seriousness. For example, if a boss is too long or too short, the top of the boss will be highlighted in red. Color error maps make it possible to analyze problems in seconds that might take hours to understand when looking at point cloud coordinates in a spreadsheet.

The point cloud feature of EnSuite is particularly useful to quality assurance engineers in two scenarios - manufacturing QA and CAD QA. In manufacturing QA, the objective is to check for conformance of physical part to the CAD design. The manufactured part is inspected to generate a point cloud and the point cloud is imported into EnSuite. This manufactured part point cloud is then compared to the CAD model and any error in the manufactured part is visualized in a color map. The color error map clearly indicates whether or not the part conforms to the design and also helps diagnose problems in the manufacturing process.

In CAD QA, the objective is to check conformance of CAD model to the actual physical part, as in a reverse engineering process. The physical part is scanned (CMM) to generate a point cloud and a CAD model generated using the point clouds. The point cloud is imported into EnSuite and compared to the CAD model that has been created as part of the reverse engineering process and any error in the CAD model is visualized in a color error map. The color error map provides a clear indication of the quality of the CAD model and identifies any areas where improvement is needed.

The latest EnSuite update will be available to all active subscription license customers as well as to new customers.

EnSuite goes far beyond the capabilities of conventional viewers and translators by providing a wide range of productivity tools for accessing critical engineering information. EnSuite prevents users from saving changes to the master CAD model to protect integrity of the master model. Licenses are automatically administered and the product updated over the Internet.

EnSuite is designed for companies that work in a multi-CAD environment, such as those used by customers, vendors and partners. EnSuite provides seamless interoperability with CATIA V4, CATIA V5, Pro/ENGINEER, Unigraphics, and SolidWorks CAD systems as well as Parasolid, IGES and STEP files. Files can be translated to and from any of these formats without the native CAD software.

For more information, contact CCE, 28124 Orchard Lake Road, Suite #101, Farmington Hills, MI, USA 48334. Phone: +1 (248) 932 5295, Fax: +1 (248) 932 9397, E-mail: sales@cadcam-e.com, Web site: http://www.cadcam-e.com/

Related