CAD Software facilitates wire harness design within SolidWorks.
Press Release Summary: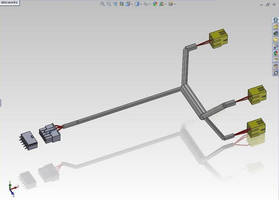 With transparent integration, elecworks(TM) 2012 combines SolidWorks 3D view of wire harness with automated wire harness tools: wire and cable length calculations, flatten route view, 3D wire routing between connectors, and generation of harness reports. SolidWorks Certified Gold electrical CAD application includes dedicated tools for creation and management of harness wire routing in SolidWorks assembly.
---
Original Press Release:

Elecworks Introduces Integrated Wire Harness Design within SolidWorks



For SolidWorks users who need to reduce design times and costs in wire harness production, the new elecworks 2012, released today, provides an ideal solution. Transparent integration within SolidWorks, and the first SolidWorks Certified Gold electrical CAD application, elecworks combines the realistic SolidWorks 3D view of the wire harness with dedicated wire harness tools such as automatic wire and cable length calculations, automatic flatten route view, automatic 3D wire routing between connectors and the automatic generation of harness reports.

elecworks 2012 includes dedicated tools for the efficient creation, and management of harness wire routing in a SolidWorks assembly. Running as an add-in, elecworks allows for seamless collaboration between the electrical and mechanical design teams and enables the creation of realistic digital mockups: no need for costly prototypes, for data imports, or manual input of cable lengths... elecworks automatically wires all component connectors pin to pin connections. This realistic 3D view of the wire harness also provides detailed information automatically on real wire and cable lengths. From the 3D view, users can automatically generate the flatten route and the bill of materials which can be used to order harness cables well in advance of production. elecworks includes a comprehensive list of multiple manufacturer components through TraceParts technology and TracePartsOnLine portal (over 100 million 3D components). New connector parts are now available through elecworks. New harness cable labels can be inserted in the preferred wire harness view, whether it be the 2D drawing, the 3D mockup or the flatten route, to help with cabling.

elecworks 2012 is also packed with other major features:
- A more realistic display of cable routing with colored cables and conductors based on the standardized color codes. Users can still define their chosen tri-colors. Manufacturers' information on cable and conductor colors has also been integrated.
- Optimized wire routing with greater wire intelligence: new wire data (signal, section / gauge, color...) is taken into account to improve the From To connection reports.
- New environmental archive feature save the whole working environment (symbols, manufacturers' references, BOM template, project template, projects...): this archive is useful for subcontractors or users wishing to work on laptops or PC's without connection to the company server.
- Flexibility in project archiving/unarchiving/updating: new wizard to update projects (symbols, manufacturer parts, cable references, title blocks...) or replace project data automatically with the latest library changes, archive or unarchive multiple items to facilitate maintenance.
- Training videos and documentation are available directly from within elecworks (TM) to help users become rapidly proficient : users can benefit from a complete set of practical training exercises covering all aspects of a real project and including answers, detailed explanations and show-how videos. Hours of training are thus made available for self-training. A detailed index helps users to identify work on their particular weaknesses.
- The software interface is now available in more languages like Russian and Italian, independent of the automatic multi-language translation tool which can be used to translate a project.

Dr Pedro Puig Deu, General Manager of Trace Software International, says: "today wire harnesses is present in all industry sectors and are becoming more complex. Their design requires dedicated interdisciplinary integrated tools. elecworks facilitates coordination and communication between electrical and mechanical teams while automating specific wire harness design processes".

elecworks 2012 is available for download to customers with a subscription directly through its interface or from the elecworks website (www.elecworks .com). For more information about other features and enhancements, please consult your "what's new in elecworks" menu.

About Trace Software International

Founded in 1989, Trace Software International provides design and management software solutions for the industrial automation and power distribution markets. Trace Software International has an outstanding track record of innovation and provides advanced customer-focused solutions. Partner to SolidWorks, Trace Software International is present worldwide and markets its product range through its subsidiaries, distribution channel and global reseller networks. With a head office in France, Trace Software International has offices in Michigan (USA), Shanghai (China) and Barcelona (Spain). Its sister company, TraceParts is a world expert in 3D Engineering Content. TraceParts develops and markets software solutions for CAD parts libraries, electronic catalogs and product configurators.

Additional information about the company is available at: www.trace-software.com
Additional information about elecworks (TM) is available at: www.elecworks .com

elecworks is a registered trademark of Trace Software International in France and other countries © 2012 Trace Software International


More from Mechanical Components and Assemblies