CAD/CAM Software supports various levels of manufacturing.
Press Release Summary: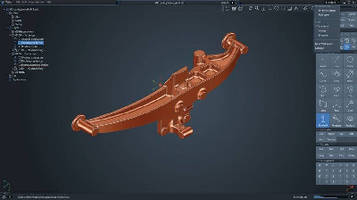 Available in Standard, Pro, and Premium levels, Version 4.0 is designed to create exact fit for manufacturer's CAD/CAM/NC process chain. Standard version offers entry level solution that fits most shops that have standard 3-axis NC milling machines. Pro version is intended for mid-sized companies that are utilizing machines with more than 3 axes and demand higher level of automation, while Premium package makes highest automation and highest strategies available.
---
Original Press Release:

New Version 4.0 from Tebis Provides New Solutions, New Look and Affordability



With Version 4.0 Tebis America provides complete software solutions for various levels of manufacturing.



Tebis America, the leading software company specializing in CAD/CAM systems for design and manufacturing—servicing the tool, die, mold, aerospace and automotive manufacturing industries, has announced the release of its the newest version – Version 4.0.



To meet the demands of a universal manufacturing industry, the company has completely re-designed its look and its sales model by offering multiple industry-specific bundles along with 56 different additional combination possibilities. All with the intent to fit the size and ability of a user. These scalable levels, labeled Standard, Pro and Premium are intended to create an exact fit for a manufacturer's CAD/CAM/NC process chain.



The "One Shoe Fits All" approach has been replaced by an affordable price structure that smaller companies can benefit from the solutions Tebis provides. Each performance level brings an increase of capabilities, strategies and solutions to the operators. The Standard version is an affordable, entry solution that fits most shops. Companies that have standard 3 axis NC milling machines and utilize low end CAD/CAM products will be able to acquire the power of Tebis at similar pricing.



The Pro version is ideal for mid-sized companies that are utilizing multi (more than three) axis machines and demand a higher level of automation for their operation.  The Premium package delivers the complete solution package making the highest automation and highest strategies available.



No matter if a company chooses the Standard, Pro or the Premium versions the same high quality surface finish and high level of efficiency solutions are immediately available.



Each of the versions utilizes the same new visual design, in order to enhance the experience. From its new intuitive access to functions to its self-explanatory icons and increased feedback for the operator, each level performs without sacrificing tried and proven features.



"Our goal was to offer our customers a variety of options when it comes to the level of performance that they require in CAD/CAM solution. The three levels we offer cover virtually any sized manufacturing facility as well as myriad applications and uses," said David Klotz, CEO and President of Tebis America.



The new interface design keeps the operator focused and fully in charge of its parts and delivers the parts with higher efficiency. The change of its minimized color palette was highly analyzed and tested in order to reduce the stress on the eyes. Therefore the user displays more energy at the end of the day, all the while increasing throughput due to its new streamlined menus and functions. For the first time can a user create its own look and feel of a software product, thus striving an easier learning cycle and faster solutions.

More from Printing & Duplicating Equipment