CAD/CAM Software provides advanced machining methods.
Press Release Summary: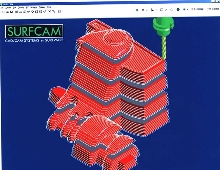 SURFCAM 2002 enables CNC programming of 2-, 3-, 4, and 5-axis mills, lathes, wire EDM, laser, plasma, and water-jet machines. All machining parameters are associative to geometry. When changes are made to tool or cut information, system automatically regenerates toolpath. Automatic Depth of Cut feature adds machine tool passes to accommodate multiple island heights. File preview technology allows user to preview parts before loading file.
---
Original Press Release:
WESTEC 2002 Attendees First to View New Release of SURFCAM

(Westlake Village, California, USA. January 21, 2002) -- WESTEC 2002 will be the showcase for the latest major releases of SURFCAM(R) CAD/CAM Systems by Surfware, Inc. WESTEC, being held at the Los Angeles Convention Center, March 18-21, 2002, is North America's largest annual metalworking and manufacturing event. Visitors to the SURFCAM booth, number 3267, will see product demonstrations of SURFCAM 2002, featuring technically advanced machining methods, feature enhancements and increased ease-of-use. WESTEC will also be the product debut for the new Advanced Machining Logic Series being released with SURFCAM 2002.

New Advanced Machining Logic Series
Technical Advancements Engineered to Reduce Machining Time

The Advanced Machining Logic Series is a suite of add-on software products that have been developed to meet the industry's specific needs. Modules are either sold separately or may come standard in higher levels of SURFCAM.

* Step Reduction Milling (SRM)
SRM, featuring new technology, is the first major product in the Advanced Machining Logic series and will become available as an optional module with the release of SURFCAM 2002. This patent-pending technology represents a major breakthrough in the rough milling of complex multiple surfaces. SRM automatically synchronizes the depths-of-cut of all the tools used in the process such that each tool is running at its optimum material-removal parameters, all material is removed with the largest possible tool, and no tool is over taxed. The reductions in programming time, processing time, and machine cycle times make existing "remaining stock machining" or "rest roughing" processes-even those very concepts-obsolete. A technical presentation of SRM will be held during WESTEC, Tuesday, March 19th. Please visit the SURFCAM booth during the show for more details.

* SURFCAM Pattern Slicing
SURFCAM Pattern Slicing, generally used for manufacturing larger components, takes a finished programmed part and automatically divides it into user-defined plates or layers. Each layer is self-contained in a separate operation. This allows the part to be machined one layer (or plate) at a time, reducing overall machine time.

* SURFCAM's Hole Processing
SURFCAM's Hole Processing automates drilling processes. Setup a "template" once for a particular process, such as "1/4-20 tap", which could include a spot drill, drill, & tap or any series of tools. Create and recall any number of custom templates as needed, and simply insert the necessary parameters when you program a particular operation. Hole drilling order is controlled and cycle times are available for optimization. "Accurate Mode" ensures maximum drilling accuracy by approaching each hole from the same direction. SURFCAM's Hole Processing software comes standard with SURFCAM 2-Axis Plus and higher. 2-Axis users may purchase this as an option.

SURFCAM 2002 New Features

* Topping the list of standard features in SURFCAM 2002 is the new 2-axis associative functionality. All machining parameters in SURFCAM are now associative to the geometry. When any changes are made to the tool or cut information the system automatically regenerates the toolpath. There is no need to manually regenerate the toolpath or re-select the geometry.

* An advanced Tool Path Smoothing algorithm replaces conventional point-to-point moves with an arc or series of arcs dramatically reducing tool path lengths while creating smoother machine tool motion.

* The new Automatic Depth of Cut feature adds machine tool passes to accommodate multiple island heights.

* Controlled point geometry allows you to create a point at the top, bottom or both ends of a line giving the user more control of the approach of the vector to the surface. This feature aids in programming for multi-axis machines and coordinate measuring machines (CMMs).

* Enhancements to the tool library include support for new tool types, enhanced graphics and new tool sorting capabilities.

* You can now create and change view in one easy step, from the same dialog box.

* Ctrl-T to automatically access PDF Tap Drill Chart for easy look-up of tap drill sizes. Includes metric.

* Enhanced High Speed Machining generates more intelligent looping between passes.

* The operations manager display options now stores more detailed info about the process to allow for easier / more accurate identification.

* Enhanced System color configuration allows you to create custom colors and schemes.

* Advanced file preview technology allows you to preview parts before loading the file.

* New setup sheets are cleaner, easier to read, printer-friendly and customizable to fit any shop's special requirements.

* The new Verification Slide Bar controls the speed of animation in verification mode. Fast-forward or slow down to concentrate on the areas that need special attention.

* Verification automatically switches to a three-quarter view when working with inside-diameter (ID) turning toolpaths. This gives you fast access to the optimal view for this type of machining.

* The new One-button file transfer utility in SURFCAM Solids allows the user to transfer a solid part file (component or entire assembly) directly into SURFCAM, with the push of a button. This process simplifies the task of creating tool paths on solid models.

* Enhanced DWG Import support for Solids.
Related