CAD/CAM Software accelerates simulation.
Press Release Summary: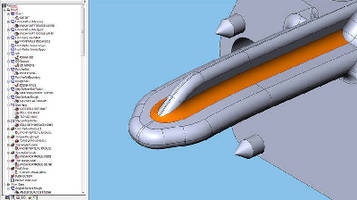 ESPRIT® 2016 features ProfitTurning™ high-speed lathe roughing strategy, which implements ESPRIT´s Physics-Based Cutting Engine. While traditional cutting strategies only consider geometry of part, ProfitTurning™ creates toolpath considering multiple cutting factors and machine characteristics that impact performance. CAD recognition functions correct and detect any acute unseen defects in imported CAD models, while optimized wire EDM functions facilitate rough cutting and prolong tool life.
---
Original Press Release:

DP Technology Corp. Announces the Release of its Ultimate Machine Tool Solution Accelerate Machining to Optimize Profits with ESPRIT 2016



Camarillo, Calif.  CAM industry innovator DP Technology Corp. has announced a new version of its pioneering flagship product ESPRIT®2016.



ESPRIT 2016 features a new innovative high speed lathe roughing strategy, called ProfitTurning™ that implements ESPRIT´s new Physics-Based Cutting Engine. While traditional cutting strategies only consider the geometry of the part, ProfitTurning™ creates the toolpath considering multiple cutting factors and machine characteristics that impact machining performance.



"ESPRIT 2016´s ProfitTurning™ remarkably improves chip control on hard materials, such as Titanium and Inconel. In addition, ProfitTurning™ reduces irregular cutting forces and vibration tendencies. The net result is a drastic reduction in cycle time, up to 50% more compared to traditional cutting methods", said Cedric Simard, Global Marketing & Communication Director at DP Technology.



Simulation speed also plays a pivotal role in CAM software and ESPRIT continues to be at the forefront of accelerating simulation without compromising accuracy or stability. ESPRIT 2016 includes increased simulation speed and higher quality surface finishing saving the user valuable time.



Advanced Tool Settings in ESPRIT 2016 provide CAM programmers enhanced tool management solutions. Additional Barrel Tool Support has also been extended to cover more 5-axis and 3-axis cutting cycles. Furthermore, Cloud-Enabled ESPRIT supports the MachiningCloud APP, which enables users to retrieve ideal cutting tool solutions and import them directly into ESPRIT with ease.



ESPRIT 2016 also features enhanced CAD recognition functions to correct and detect any acute unseen defects in imported CAD models. In addition, users can now edit or remove fillets or even extract a spine curve from fillets as a tool drive curve in machining operations. The new Hole Feature Recognition features in ESPRIT 2016 include automatically recognizing different types of complex holes and names them accordingly. ESPRIT also measures the curvature angle of open holes, making complex drilling operations more accurate and productive.



Wire EDM improvements in ESPRIT 2016 make rough cutting easier and prolong tool life. The Optional Cut-Off Clearance in ESPRIT specifies additional clearance for cut-off moves to reduce the amount of grinding required. Another new Wire-EDM feature is the Optimize First Cut-Off, which protects the wire from rethreading where there is no pre-drilled thread hole.



Fluid 5-axis features in ESPRIT 2016 eliminates unwanted plunge-type moves in Swarf cycles, and smooths any concealed defects in Spiral Finishing part surfaces. The feed rate of Spiral Roughing can now also be increased for non-cutting moves to save cutting time. ESPRIT 2016 accelerates machining with increased simulation speed and innovative cutting strategies that save users programming time and optimize profits.



DP Technology Corp.

1150 Avenida Acaso

Camarillo, CA 93012 USA

Director, Global Marketing & Communication

Cédric SIMARD

Phone: +1 805 388 6000

cedric.simard@dptechnology.com



More from Software