CAD-Based Software speeds programming of CMMs.
Press Release Summary: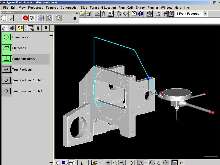 CALYPSO® v3.8 provides CAD engine, analysis tools, evaluation methods for 2D best fit function, and graphics output including parallelism and perpendicularity. Users can measure plane and curve features using scanning procedure with rotation of rotary table, eliminating need for multiple probes. VAST Navigator option, available for CMMs equipped with VAST GOLD probe head, optimizes travel paths and adapts scanning speeds to preset accuracy values.
---
Original Press Release:

Leading Scanning Software Calypso® 3.8 Released New Version of CAD-Based Programming Software


MAPLE GROVE, Oct 16 - Carl Zeiss Industrial Measuring Technology (IMT) introduced the latest version of CALYPSO® 3.8., the powerful CAD-based programming software for coordinate measuring machines (CMMs). With several thousand installations, CALYPSO is the leading software for precision metrology in the Powertrain area. CALYPSO offers several new key functions, options, and features that reduce programming time and provide additional capabilities. With the introduction of CALYPSO 3.8, Zeiss advances the Visual Metrology(TM) concept - the object-oriented foundation of CALYPSO.

CALYPSO 3.8 features a more robust CAD engine, new graphics output such as parallelism and perpendicularity, an additional selection of analysis tools, and newly available software options that offer increased productivity when working with CAD models.

Evaluation and results
The new version offers additional evaluation methods for the 2D best fit function. Results of bore pattern best fits can now be enhanced with the options Evaluation Method, Filter and Outlier Elimination. If high accuracy is required when defining a workpiece coordinate system using the 3 D best fit on freeform
surfaces, the 3D best fit can be optimized with an existing CAD model.

VAST Scanning with rotary table
Users can now measure plane and curve features using the scanning procedure with the rotation of a rotary table. This function enables the scanning of features that are difficult to access and eliminates the need for multiple probes resulting in increased accuracy and shorter measuring times.

VAST Navigator
The VAST Navigator option, available for CMMs equipped with the VAST GOLD probe head, optimizes travel paths and adapts scanning speeds to preset accuracy values. Dynamic probe calibration enables higher scanning speed. Corner rounding permits optimized travel inside and outside of features. The tangential probing function for circles offers continuous transition from navigator to scanning. Optimized helix scanning allows the user to select different modes for combining helical scanning paths and full circles. All values, including measurement plan or feature related values can be changed using the measurement plan editor for features.

CALYPSO 3.8 is available for all bridge-type CMMs from Carl Zeiss.

Headquartered in Oberkochen, Germany, the global player Carl Zeiss is a leading international group of companies operating in the optical and opto-electronic industry. Carl Zeiss offers technologically advanced solutions for the areas Semiconductor and Opto-electronic Technology, the Life Sciences and Health Care, Eye Care, Industrial Solutions and sophisticated products in the field of Consumer and Sports Optics. The company is directly represented in more than 30 countries and runs production centers in Europe, North America, Mexico and Asia. In the 2001/02 fiscal year a global workforce of roughly 14,700 people achieved a sales figure of just under EUR 2.3 billion.

For more information, please visit www.zeiss.de.
Contact for the press (USA): Annette Smith, Maple Grove, Minnesota, Phone (763) 744-2409, Fax (763) 533-0219, E-Mail asmith@zeiss.com Internet http://www.zeiss.com/imt.

More from Electrical Equipment & Systems