Cabsat 2013: International Datacasting to Show Product Range at Largest Digital Media Expo in MEA Region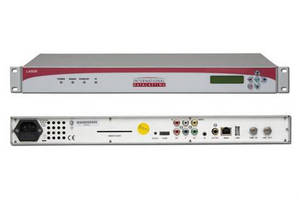 Ottawa, ON – International Datacasting (TSX: IDC), a global leader in digital content distribution for the world's premiere broadcasters, will be at the CABSAT 2013 show in Dubai March 12th-14th, supporting the company's Middle East region resellers MEConnect and TradeCom. IDC's broad range of video contribution and data distribution products will be on display at the MEConnect booth (Hall1, Stand #111.) CABSAT is the largest digital media and satellite expo in the MEA (Middle East and Africa) region.



On display will be: IDC's LASER targeted ad insertion platform, Digital Tattoo DTH over IP gateway, STAR Pro Audio solution and the TITAN MPEG-2/MPEG-4 video encoder.



"We're looking forward to meeting with our broadcast customers and potential customers at CABSAT this year," said Virginia Lee Williams, Vice President, Global Sales and Marketing, International Datacasting.  "MEA is one of the fastest growing communications markets in the world. We're committed to having a strong presence in the Middle East. Leading broadcasters throughout the world rely on our products to ensure managed, uninterrupted delivery of valuable entertainment, news and highly targeted advertising."



The LASER ad insertion video solution gives network broadcasters who deliver content via satellite the ability to offer advertisers exceptional ad insertion granularity. LASER enables broadcasters to increase advertising revenues by seamlessly inserting regional or local commercials at the edge of the network. With the LASER platform, each location can be addressed and targeted individually with pinpoint accuracy. LASER allows for the replacement of ad content that may be unsuitable for specific audiences due to copyright issues, or regional variances, with ad content more appropriate for that target market. This flexibility allows broadcasters serving a wide geographic market to generate revenue from a broader base of advertisers.



IDC has over 15 years' experience in delivering professional MPEG video contribution encoding platforms and has over 5,000 installations worldwide.



To schedule a meeting at CABSAT, please contact: 

Berry Eskes, Sales Director, Northern Europe, CIS & Middle East - beskes@datacast.com or Berend Blokzijl, Sales Director, Southern Europe & Africa -bblokzijl@datacast.com



About International Datacasting Corporation:

International Datacasting Corporation (TSX: IDC) is a global leader in digital content distribution for the world's premiere broadcasters in radio, television, data and digital cinema. IDC offers a broad portfolio of advanced solutions including Pro Audio, Pro Video, Pro Cinema, and Pro Data for implementing broadcast content contribution and distribution applications. IDC's products and solutions are in demand for radio and television networks, digital cinema, 3D live events, targeted ad insertion, satellite news gathering, sports contribution, VOD, and IPTV among others. IDC is headquartered in Ottawa, Canada, with regional offices in Arnhem, the Netherlands and in San Diego, California. IDC has installations in over 100 countries and service offices in Thailand and Singapore, with an international network of value-added partners and resellers. For more information visit: www.datacast.com.



For more information, contact:

Virginia Lee Williams

International Datacasting

50 Frank Nighbor Place

Kanata, Ontario, Canada K2V 1B9

(613) 596-4120

vlwilliams@datacast.com

www.datacast.com



*Please note I am now using my cell phone line and Skype only for phone service.



More from Machinery & Machining Tools