Cable-Tie Hardware installs permanently without screws.
Press Release Summary: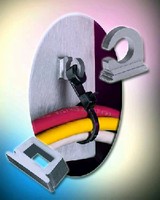 PEM® Self-Clinching Type TD(TM) cable tie-mounts and Type TDO(TM) hooks provide permanent attachment points for mounting wires and cables to electronic chassis or enclosures. Both are RoHS compliant and offered in several sizes for installation in metal sheets ranging from .040-.125 in. thick. Tie-mounts allow users to slide ties through hardware's eye for fast cable mounting, while hooks enable users to attach, remove, and return tie-bundled wires at mounting points.
---
Original Press Release:


PEM® Self-Clinching Cable-Tie Hardware Installs Permanently Without Screws or Adhesives




PEM® self-clinching cable tie-mounts and hooks can provide permanent attachment points for mounting wires and cables to electronic chassis or enclosures. All PEM TY-D® hardware installs quickly and permanently without screws or adhesives.
The family of PEM TY-D hardware includes Type TD(TM) cable tie-mounts and patented Type TDO(TM) hooks. Both types are RoHS compliant and offered in several sizes for installation in metal sheets as thin as .040"/1.02mm and thick as .125"/3.18mm.

Type TD tie-mounts allow users to slide ties easily through the hardware's "eye" for fast cable mounting. Type TDO hooks enable users to attach, remove, and return tie-bundled wires at their mounting points when components need to be accessed for service or when wires or cables must be replaced. The hook feature allows ties to remain intact and wires to remain wrapped.

PEM TY-D hardware remains secure at designed locations and angles. Panels on the side opposite installation remain flush and without any openings to minimize EMI/RFI and potential contamination of electronics by dust or dirt.

CAD drawings (in most formats) for these fasteners are available free for downloading from www.pemnet.com

Contact Michael J. Rossi, PennEngineering®, 5190 Old Easton Road, Danboro, PA 18916-1000. Phones: 800-237-4736 (toll-free in the U.S.) and 215-766-8853; Fax: 215-766-0143. Web site: www.pemnet.com


More from Fasteners & Hardware