Cable Railings and Fittings allow for unimpaired views.
Press Release Summary: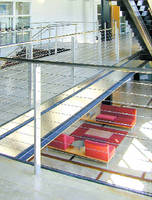 Suitable for indoors or out in residential or commercial applications, Cable-Rail includes choice of 1/8 , 3/16, or ¼ in. diameter, weather-impervious Type 316 stainless steel cable. When used in conjunction with automatic locking, stainless quick-connect fittings and peripheral hardware, cable can be horizontally threaded and properly tensioned through holes of prefabricated floor and fascia mounted posts, or utilized with other brands or formats of wood, aluminum, or steel railing frames.
---
Original Press Release:

Outwater Introduces Its Updated Line of Cable-Rail Railings and Fittings



Bogota, NJ (www.outwater.com) — Now available in three different cable diameters with corresponding floor and fascia mounted posts, Outwater [Outwater Plastics Industries, Inc. + Architectural Products by Outwater, LLC is pleased to offer Cable-Rail Railings & Fittings, an affordable and easy to order and easy to install prefabricated cable assembly system that can be used to replace ordinary, outdated, view impeding metal and wood railing pickets.



Suitable for use indoors or out in residential or commercial applications, Cable-Rail now includes your choice of 1/8-in., 3/16-in. or ¼-in. diameter, high strength, weather impervious type 316 stainless steel cable, which when used in conjunction with the supplied patented supplemental automatic locking stainless quick-connect SS fittings and peripheral hardware, can either be horizontally threaded and properly tensioned through the holes of the system's attractive and reasonably priced matching prefabricated floor and fascia mounted posts, thus simplifying installations and negating the need for welding, or can also be utilized with other brands or formats of new or existing wood, aluminum or steel railing frames. In any case, whether you were to use Cable-Rail's complementary posts or other types of configurations, the end result is a virtually invisible, perceptibly open railing system that is not only extremely durable and attractive, but one that allows for beautiful, unimpaired views.



Cable-Rail is sold in a wide range of standard precut lengths from 5-ft. to 80-ft. in increments of 5-ft. along with a broad assortment of accessories to accommodate almost any type of installation, and can be trimmed to specific finished dimensions in the field, making it an ideal choice for fences, trellises, handrails and balustrading, not to mention, a vast array of other architectural and ADA applications.



Cable-Rail Product Highlights:



Now available in three cable diameters



1/8-in. Standard Assemblies

-- The most popular and cost effective option

-- Perfect for all residential and light commercial projects

-- Can be installed on wood or metal frames



3/16-in. Standard Assemblies

-- An extra durable option for residential and commercial settings

-- Can be installed on wood or metal railing frames



1/4-in. Standard Assemblies

-- The largest, most durable option for highly trafficked commercial locations

-- Also great for railing designs in which the appearance of a larger, more substantial cable is desired

-- Recommended for metal railing frames only



Prefabricated Floor and Fascia Mounted Posts

-- Suitable for use as Anchor Posts, Center Posts, Stair Center Posts and Receiver Cable Posts

-- Rail heights offered at 36-in. and 42-in.

-- Manufactured of 316 Stainless Steel with a satin finish



Stainless Quick-Connect SS Fittings

-- Facilitate quicker and easier to build Cable-Rail projects by enabling installers to rapidly connect the Cable-Rail's cables as desired with its patented automatic locking fittings.



Cable Assembly Care & Maintenance

-- With simple periodic maintenance, which entails occasionally washing the stainless steel cables and fittings with warm soap and water, and inspecting and adjusting the cable assemblies from time to time as necessary, the protective chromium oxide film on the surface of the stainless steel provides superior corrosion resistance along with excellent luster, strength and durability that can remain beautiful and fully functional for many years to come, even when exposed to marine environments, polluted surroundings, salted highways or other potentially corrosive elements.



For further product information, please click the enclosed links:



Link #1: Cable-Rail Standard Cable Assemblies + 3 Available Cable Diameters

http://www.outwatercatalogs.com/lg_display.cfm/catalog/Master_Catalog_Vol_42?useSearchForm=single&page=952



Link #2: Cable-Rail Parts & Components + Steps for Installing the Standard Cable System

http://www.outwatercatalogs.com/lg_display.cfm/catalog/Master_Catalog_Vol_42?useSearchForm=single&page=953



Link #3: Cable-Rail Care & Maintenance

http://www.outwatercatalogs.com/lg_display.cfm/catalog/Master_Catalog_Vol_42?useSearchForm=single&page=954



Link #4: Cable-Rail: How to Order

http://www.outwatercatalogs.com/lg_display.cfm/catalog/Master_Catalog_Vol_42?useSearchForm=single&page=955



Link #5: Cable-Rail: How to Order (Continued)

http://www.outwatercatalogs.com/lg_display.cfm/catalog/Master_Catalog_Vol_42?useSearchForm=single&page=956



Link #6: Cable-Rail: How to Select your Railings & Fittings

http://www.outwatercatalogs.com/lg_display.cfm/catalog/Master_Catalog_Vol_42?useSearchForm=single&page=957



Link #7: Cable-Rail: Prefabricated Floor Mount Posts

http://www.outwatercatalogs.com/lg_display.cfm/catalog/Master_Catalog_Vol_42?useSearchForm=single&page=958



Link #8: Cable-Rail: Prefabricated Fascia Mount Posts

http://www.outwatercatalogs.com/lg_display.cfm/catalog/Master_Catalog_Vol_42?useSearchForm=single&page=959



About Outwater [Outwater Plastics Industries, Inc. + Architectural Products by Outwater, LLC: Outwater can be contacted Toll Free at 1-800-631-8375 (For sales and product information in the USA & Canada) / 1-201-498-8750 (For sales and product information outside of the USA & Canada) or viewed online at www.outwater.com



From the vendor of a single product in August 1972, Outwater, with sales and distribution facilities in New Jersey and Arizona, is recognized today as a well established international manufacturer and stocking distributor of more than 65,000 standard and innovative component products required by woodworkers, cabinet and furniture manufacturers, builders, remodelers, designers, architects, point-of-purchase and display fixturing manufacturers, OEM's, as well as a diversified range of other commercial and retail end users.



Major Product Categories include Plastic & Aluminum Extrusions; Lighting and Lighting Accessories; Furniture, Cabinet & Store Fixture Components; Knobs & Pulls; Casters; Fasteners; Laminates; The FOGA Exhibit & Display Fastening System; The Klem Connector; Literature Displays; Slatwall; Sign Holders; P.O.P Components; Display Motors & Turntables; Pedestals; Injection Molded Parts; Brass Tubing & Fittings; Surfacing Materials; Interior & Exterior Polymer & Wood Architectural Mouldings & Millwork; ORAC DECOR and DEM Architectural Mouldings & Millwork; Columns & Capitals; Balustrading; Wrought Iron Components; Decorative Stamped Steel & Polymer Ceiling Panels; Wainscoting; Wall Coverings; Fireplace Surrounds; Plastic "Glass" Block; Period & Contemporary Hardware; Kitchen & Bath Accessories; Kitchen & Bath Cabinetry and Vanities… and so much more!



Contact:

Joey Shimm, Director of Marketing

Outwater Plastics Industries, Inc. + Architectural Products by Outwater, LLC

(201) 498-8750



Catalog Requests:

1-888-772-1400 (US)

1-888-333-0408 (Canada)

1-201-498-8750 (Outside of US & Canada)



Sales & Product Information: 1-800-631-8375 / 1-201-498-8750

Fax: 1-800-888-3315 / 1-201-498-8751



Outside of the USA & Canada Sales & Product Information: 1-201-498-8750

Outside of the USA & Canada Fax: 1-201-498-8751



Email: info@outwaterplastics.com

Web site: www.outwater.com

More from Portable Tools