Cable Railing Fittings eliminate field swaging.
Press Release Summary: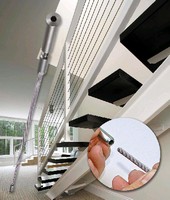 Installed by hand, Ultra-Tec® Push Lock(TM) and Pull Lock(TM) Fittings do not require special swaging equipment to attach cable tensioners and stop-ends to cable at job site. Units are made of Type 316 stainless steel and can be used with wood or metal framed railings, inside or outside, on levels runs or stairs. Once installed, there are no acorn nuts or rough cable ends and, in many cases, hardware is largely concealed inside railing posts.
---
Original Press Release:

Wagner Adds New Push-Lock And Pull-Lock Fittings For Cable Railing



Two New Ultra-Tec® Fittings Eliminate Field Swaging

Milwaukee, WI - The Wagner Companies has added two new Ultra-Tec® Cable Railing Systems' fittings to their complete line of cable railing products. The new Push Lock(TM) and Pull Lock(TM) fittings eliminate field swaging and can be installed by hand. No special swaging equipment is required to attach cable tensioners and stop-ends (non-tensioning ends) to the cable at the job site.

The Push Lock© and Pull Lock(TM) fittings make it unnecessary to take exact field measurements or to wait for factory-swaged cables. Ordering and installation is easy - simply order the hardware and the approximate amount of cable needed for the job. Then, cut the cables to length, push the cable into the fittings on both ends of the cable run, tension and trim the cables, and press on the stainless steel cap to cover the bare cable end.

Ultra-Tec® sleek Type 316 Stainless Steel fittings can be used with wood or metal framed railings - inside or outside - on level runs or stairs. When installed, there are no ugly acorn nuts or rough cable ends and, in many cases, the hardware is largely concealed inside the railing posts so there is nothing to obstruct the view.

For further information, go to www.wagnercompanies.com or contact The Wagner Companies at (888) 243-6914 or info@mailwagner.com.

The Wagner Companies has been in the metal business since 1850 as a manufacturer of handrail fittings and metal products for architectural and industrial applications. The Wagner Companies is made up of R & B Wagner, Inc. and The J. G. Braun Company. The main product lines include: Architectural Catalog, Architectural Custom and Industrial Original Equipment Manufacturer (OEM) products. Wagner offers bending, stamping, waterjet cutting and finishing capabilities, including assistance with CAD technology. Wagner has a large inventory of raw materials and over 7,800 standard catalog items in steel, brass, bronze, aluminum, and stainless steel.

Contact: Heidi Bischmann
The Wagner Companies
P.O. Box 423
Butler WI 53007-0423
Phone: (414) 214-8383
Fax: (414) 214-8324
hbischmann@mailwagner.com
www.wagnercompanies.com

More from Electrical Equipment & Systems