Cable Harnesses meet special environmental requirements.
Press Release Summary: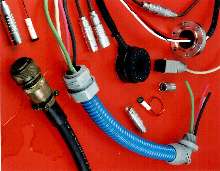 Custom Cable Harnesses can be constructed from materials for temperature variations from -40 to +100°C and for use in vacuum enclosures. They can withstand flexing, vibration, water, and corrosives. Harnesses are offered for signal loss applications down to 1 mOhm and for voltage systems up to 10 KV. Fabricated from 4 to 30 Ga wire, all harnesses are 100% electrically and mechanically tested and UL/CSA approved.
---
Original Press Release:
Custom Cable Harnesses Meet Special Environmental Requirements

Custom engineered cable harnesses that can be fabricated to withstand abrasion, wide temperature and pressure extremes, and water and corrosive fluids in harsh environments, or be used in clean rooms are available from Aved Electronics, Inc. of Lowell, Massachusetts.

Aved Custom Cable Harnesses can be constructed from materials that meet specific environmental requirements such as wide temperature variations from -40°C to +100°C or use in vacuum enclosures. Produced in small volume, high mix configurations, they can be designed to withstand flexing and abrasion, water and corrosives, and be self-contained for clean rooms.

Offering solutions to a wide range of design challenges, Aved Custom Cable Harnesses can be produced for low signal loss applications down to 1 mOhm and for high voltage systems up to 10 KV. Fabricated from 4 to 30 Ga wire, with a wide variety of termination options, insulations, and strain reliefs, all harnesses are 100% electrically and mechanically tested and UL/CSA approved.

Aved Custom Cable Harnesses are priced according to configuration and quantity; with custom packaging, bar coding, and vendor managed inventory (VMI) offered. Literature and price quotations are provided upon request.

For more information contact:

Generation Electronics, Inc.

Rich Kurth, Marketing Director

59 Technology Dr.

Lowell, MA 01851-2729

(800) 441-2833 FAX (978) 453-6470

e-mail: info@aved.com

www.aved.com

More from Electrical Equipment & Systems