Cable Glands terminate MC electrical cables.
Press Release Summary: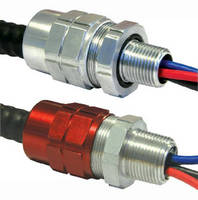 Suited for non-hazardous and hazardous areas, respectively, Models TMC2 and TMC2X securely terminate interlocked/corrugated aluminum or steel armor jacketed metal clad cables as well as continuous welded armor cables. Units form mechanical watertight connections while also providing ground continuity for cable armor. Available in trade sizes from ½-4 in., units have 2-piece design that requires no disassembly and are constructed of copper-free aluminum, nickel-plated brass, or stainless steel.
---
Original Press Release:
Next Generation TMC2/TMC2X Glands Reduce Cost and Installation Time to Terminate MC Electrical Cables
ROSEMONT, IL, -- Appleton, the leader in hazardous location electrical equipment, has introduced a safer, faster and more cost-efficient way to connect jacketed metal clad electrical cables. Next generation TMC2 and TMC2X cable glands are engineered to securely terminate interlocked /corrugated aluminum or steel armor jacketed metal clad cables (Type MC/MC-HL), and continuous welded armor cables (Type CLX or TECK) to form mechanical watertight connections, while also providing excellent ground continuity for cable armor. These types of cables are increasingly being installed as service, feeder, and branch circuit cables for lighting, power, control, and signaling circuits. The TMC2 is designed to be installed in non-hazardous locations, while the TMCX2 is rated for hazardous areas including explosion-proof and dust-ignition proof applications such as petrochemical plants. FASTER INSTALLATIONS
The key to the glands' success is reduced installation time: They require no disassembly and feature a simplified two-piece design that allows the contractor to ground the armor and seal the outer jacket in one action. Because both pieces insert onto the cable during assembly there are no parts to drop or lose -- a big advantage when working high on a ladder or scaffold. Their slim, compact profile requires only minimum space between knockouts or hubs. When installing hundreds of cables, faster installation equals considerable cost savings. RAPIDEX SEALING
The explosion-proof, dust-ignition proof TMC2X utilizes RapidEx high-speed liquid resin sealing compound that applies easily and sets within minutes, displacing any air while creating a reliable seal with no gaps or voids. Once cured, RapidEX adheres reliably for the life of the cable gland with no cracking or shrinking no matter what the temperature. The glands features an integral "O" ring face seal for 4X and IP68 rated protection in corrosive, wet locations, such as a marina, outdoor parking structure or paper manufacturing plant. An additional Integral Deluge proof seal is available for extreme offshore and onshore environments. RapidEx performance, coupled with the gland's durable, corrosion-resistant materials, translates directly into lower maintenance expense. Appleton TMC2 and TMC2X cable glands are available in trade sizes from 1/2-inch to 4-inches with multiple cable O.D. ranges per hub size in either copper-free aluminum, nickle-plated brass or stainless steel construction. For more details, please visit www.appletonelec.com. About Appleton
Appleton is a premium line of hazardous location products under the EGS Electrical Group family of brands. EGS Electrical Group is a worldwide manufacturer of electrical products for virtually every type of environment. Distributors, contractors, engineers, electricians and site maintenance professionals around the world trust EGS brands to make electrical installations safer, more productive and more reliable. EGS is organized into three focused businesses that provide distributors and end-users expert knowledge and excellent service. It is part of the EGS Electrical Group, LLC, a division of Emerson Industrial Automation and is headquartered in Rosemont, IL.
More from Electrical Equipment & Systems