Cable Glands offer variable clamping ranges.
Press Release Summary: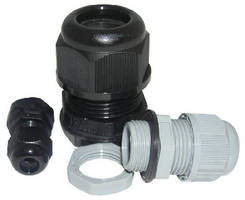 Available in different styles, sizes, and colors, IP68-rated Cable Glands protect internal electronics of machinery from dust, dirt, water and other foreign debris. Units are made of UL approved Nylon 66 and come in NPT, PG, and Metric thread styles to fit machinery of all kinds. Able to withstand temperatures from -40 to 221°F, cable glands are self extinguishing after certain period of time and are suited for indoor/outdoor use.
---
Original Press Release:

New Cable Glands Offer Superior Protection



Erie, PA - Effective machinery protection is crucial for continued flawless production. With the high cost of pieces of equipment, one cannot neglect the importance of defense against dust, water, dirt, and other foreign debris. With that being said, the Alliance Plastics cable glands provide an affordable solution to providing the security that is essential for machinery. These parts have the ability to protect internal electronics from dust and water while adding an aesthetic finish for ideal cable and machine protection.

These new cable glands are available in different styles, sizes and colors to create the most helpful part for any need. Along with the wide array of sizes, this new product range is offered in three different thread styles to fit machinery of all kinds; NPT, PG, and Metric. Besides the actual size and thread style, different part styles are also offered for a variety of tasks. Aside from the standard cable glands, these parts are also offered in a 90° (right angle) NPT style. This type of cable gland allows for protection where standard glands are not serviceable. All of these parts are offered in a standard black color, however with some now being offered in silver gray, these cable glands provide an added aesthetic finish while having the ability to being used outdoors as well as indoors.

The UL Approved Nylon 66 material presents anyone with a strong, durable and reliable product. Specifically, these parts are UL94-2 Rated which indicates their flammability rating. In this case, these components are self extinguishing after a certain period of time. This means if for any reason a fire occurs near these products they will self extinguish before any further damage to the piece of machinery arises. This is especially important in manufacturing facilities where the chances of this happening are very plausible. These products also have great temperature ranges. Most can withstand -40°F to 221°F. As stated before, this allows these products to be used outdoor or indoor.

These new cable glands also have IP 68 rated protection. This indicates that the parts are dust and water-tight (with the 6 indicating dust tight and the 8 representing water tight up to 1 m). As well as being IP 68 rated, the parts are designed with AVC--variable clamping ranges to fit a wide range of diameters. This ensures that there is a part out there for many of the different applications that one may encounter.

Cable glands are a reliable, economical way of protecting expensive machinery from dust, dirt, water and debris. The durability of these products is evident as they are used by trailer manufacturers, water and fluid control systems, exterior lighting systems, HVAC systems, solar energy systems, marine systems and many others who trust these products to protect the internal components of their machinery. Although these products serve as great added security for machinery in any case, for best results one should select a gland with the smallest maximum clamping range for the application. This will guarantee that expensive machinery is as safe as possible thanks to the tightest seal possible.

About Alliance Plastics

Alliance Plastics is a manufacturer and distributor of protection and finishing components for a wide range of industries and applications. Alliance Plastics operates predominantly in the United States, Canada, Mexico and Brazil but has a global presence through distribution in Europe and Asia.

Formed in 1968, Alliance Plastics employs more than 200 people in 10 locations throughout North and South America. The company's headquarters and primary manufacturing site are located in Erie, Pennsylvania, where significant investment in information technology, production machinery, tooling, and warehouse facilities drive ongoing improvements in customer service. Additional manufacturing operations were incorporated into existing distribution operations at the Sao Paulo, Brazil site in 2006. This site anchors the company's presence in the region.

For more information or to request free samples of this product, visit www.AlliancePlastics.com , email sales@allianceplastics.com , or call 800-551-2052.

To request our new catalog detailing 2010 NEW PRODUCTS visit www.AlliancePlastics.com/catalog. All orders placed before 3pm EST will be shipped the same day from one of our 8 regional locations throughout the US and Canada.

More from Electrical Equipment & Systems