Cable Glands are certified for use in hazardous areas.
Press Release Summary: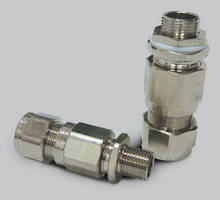 IECEx certified for use in hazardous industrial areas within Australia, OSCG E1WF and E1XF are respectively designed for use with steel wire armor cables and braided screened cables. Products have double compression for outer/inner jacket of cable, and compression seals are made from silicone. Triple certified Exd IIC, Exe II, ExtD A21 for Zones 1, 2, 21, and 22, IP66-/67-rated cable glands come in nickel-plated brass/stainless steel in full thread sizes up to M100 or 4 in. NPT.
---
Original Press Release:

Hazardous Area Cable Glands



Cable specialist Kabex Australia has released two OSCG (E1WF & E1XF) ranges of IECEx cable glands for use with steel wire armour and/or braided screened cables in hazardous areas including petrochemical, oil & gas, chemical, fertiliser, shipbuilding, paint and solvent, sugar, LNG, power and mining industries along with anywhere else where flammable atmosphere may exist.



The E1WF & E1XF glands have double compression for outer/inner jacket of cable. Compression seals are made from Silicone instead of PVC, as is the standard and can also be used for all types of armoured cables.



Complying to a range of international regulations, the E1WF & E1XF cable glands (E1WF is for Steel Wire Armoured cables & E1XF is for Braided screen cables) are IECEx certified for use in hazardous industrial areas within Australia as they are also triple certified Exd IIC, Exe II, ExtD A21 for Zones 1, 2, 21 and 22.



According to James Smith, Manager of Kabex Australia, "With hazardous area products its critical they perform exactly how they are designed".



"If you terminate a cable, inspect it, decide you need to redo the termination then the compression seals that are made from PVC are compromised and the integrity of the product certification cannot be guaranteed".



"Maybe a cable will be removed or replaced and if the cable gland is reused then again it may not offer the required protection for the hazardous area making it unsafe. With our glands that use Silicone seals, this is no longer a problem".



The main features of both these cables are:

-  Full range of thread sizes available up to M100 or 4"NPT

- Metric threads supplied complete with locknut and sealing washer

-  Available in Nickel Plated Brass or Stainless Steel.



Technical data on Kabex E1WF armoured cable glands and E1XF braided cable glands



Technical Data:  E1WF E1XF

Cable Type: Armoured Cable Gland Braided Cable Gland

IECEx Certification: IECEx KOS 03.0018x IECEx KOS 09.0016x

Protection: Exd IIC, Exe II, ExtD A21, IP66/67

Classification: Zones 1, 2, 21, 22

Gland Material: Nickel Plated Brass/Stainless Steel

Seal Material: Silicon

Sealing Area: Outer/Inner Jacket of Cable

Optional Accessories: Shroud, Serrated Washer, Earth Tag, Adaptor, Reducer, Elbow, Stopping Plug



About Kabex Australia

www.kabex.com.au

Kabex Australia is a leading company specialising in the supply of cables, hazardous area equipment and associated goods.



By bringing together the best of relationships with both overseas factories and local suppliers Kabex offers a complete range of cables with particular emphasis on flexible power cables, instrumentation cables, low and medium voltage cables.



Kabex Australia is also the sole Australian importer of both Petrel Ltd's entire range of Hazardous Area Lighting and Control Equipment along with OSCG Co Ltd Cable Glands and Accessories for both Hazardous & Industrial Area.



Our extensive experience includes exporting to major projects throughout the Asia, Pacific and Middle East regions. We also offer nationwide coverage with particular strengths in servicing the entire Eastern Seaboard of Australia and remote areas.



All products supplied by Kabex meet our strict quality criteria and are made to the highest standard in ISO9001 certified factories.



About OSCG Co. LTD

http://oscg.net/



OSCG Company was established in 1983 as a cable gland manufacturer and has been providing to shipbuilding, chemical plants, power plants, on & off shore projects and industrial sites with high quality cable termination products for Hazardous Area and General Industrial requirements.



OSCG cable glands have been developed to be well ahead of technological developments and as a global company have been supplying to Hyundai Shipyard, Samsung Shipyard, Daewoo Shipyard, SK Construction Co. and GS E&C and major Oil Companies.



OSCG explosion proof cable glands are certified by IECEx of IEC, ATEX NEMKO of CENELEC standards Europe, GOST R, KOSHA and KIMM in accordance with IEC.

More from Electrical Equipment & Systems